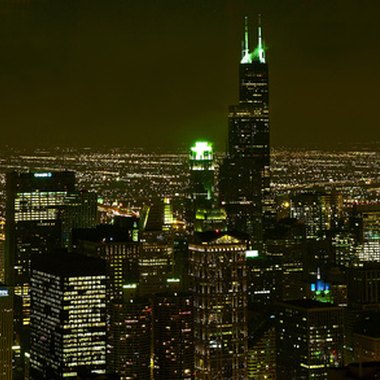 The Fairmont Chicago, Millennium Park, is a luxury hotel located due east of the Loop financial district. The hotel overlooks Lake Michigan and the expansive greenery that is Grant Park. The establishment, which is the Fairmont's only property in Chicago, has been included on the "Conde Nast Traveler" Gold List, as well as "Travel+Leisure" magazine's list of the top 500 hotels. In addition, the Fairmont Chicago boasts AAA's Four-Diamond recognition.
Accommodations
The guest rooms and suites of the Fairmont Chicago have been designed in a sleek, contemporary style. Ivory, cream, tan and chocolate brown dominate the color palette. Rooms feature separate tubs and showers, large flat-screen televisions, iPod docking stations and dressing rooms. Suites range from 700 to 1,850 square feet, and offer such amenities as fireplaces, wet bars and, in the Presidential Suite, a grand piano. Every room offers expansive views of the city and its skyline.
Dining Options
The Fairmont is home to aria, rated to be one of the best in the city by "Chicago" magazine in May 2003. The establishment serves new-world Asian cuisine and is open for breakfast, lunch and dinner. Its contemporary dishes, variety of sushi and extensive wine list helped this restaurant win the "Wine Spectator" Award of Excellence in 2010. Its adjoining cocktail and sushi bar offers a nightclub setting. Decorated in the style of an updated Japanese noodle house, the room has an ambiance enhanced by the selection of international lounge music that pumps in the background. Alternatively, guests may visit ENO Wine Room. Also a winner of the 2010 "Wine Spectator" Award of Excellence, this bar boasts a list of more than 500 wines. In addition, more than 35 types of cheeses are served with dried fruit, honey and nuts.
MySpa
MySpa is a spa and wellness center located on-site at the Fairmont Chicago. The 11,000-square-foot facility is staffed by a team of certified and licensed professionals who provide massages, facials and and other beauty treatments. MySpa also maintains a fitness center, outfitted with weight training and cardiovascular equipment.
Corporate Services
The Fairmont maintains a full-service business center that is open seven days a week. In addition to providing administrative services, the center is equipped to handle a variety of audio-visual needs. The hotel also boasts more than 16,000 square feet of meeting space, including the 5,000-square-foot Moulin Rouge Ballroom, accommodating events of more than 1,000 guests at one time.