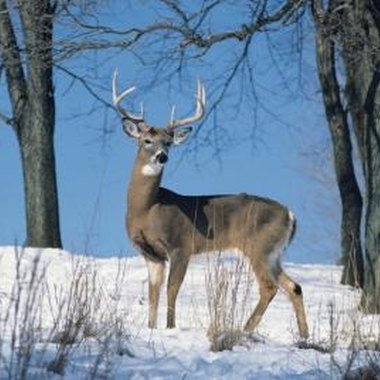 The whitetail deer was designated as the official state animal of Pennsylvania in 1959. It is the state's best known wildlife species and native big game species. Pennsylvania has a number of hunting lodges where people can hunt deer. Some lodges have high fence hunting, where the property is enclosed, while others are free chase. All hunters need to acquire relevant permits when hunting public lands, where deer hunting season is typically late November to mid-December.
Burdick's Lodge
Burdick's Lodge is situated in the Allegheny Mountains in McKean County in the north central area of Pennsylvania. They have fair chase deer hunts on thousands of acres of state lands, public lands and private land. They will organize hunting licenses and tags for hunters provided they book before August. Hunts are for three deer per hunter. They have four camps and two modern apartments with modern conveniences, but no washer and dryer. Optional extras are a full-time guide and cooked meals.
Stony Fork Hunts
Stony Fork Hunts is located 10 miles from Wellsboro in the rolling mountains and farmland of Tioga County. They have a large preserve with fair chase hunting. Whitetail deer hunts run from mid-August until antlers drop, and fallow deer, sika deer and elk hunts run from September 1st to April 1st. Hunts are guided and require no hunting license. They have comfortable and clean overnight accommodations with home-cooked meals, and can provide transport to Grand Canyon, Elmira and Williamsport Airports.
Chestnut Ridge Whitetails
Chestnut Ridge Whitetails provides guided deer hunts year-round on a 100 acre deer hunting preserve in the Pocono Mountains of north-east Pennsylvania. Fair chase rules apply and the deer are quite wild living in forests and fields. Because it is a preserve, you do not require a hunting license. There are one- and two-man tree stands for hunters and you can hunt trophy whitetail deer. Rooms are available in the comfortable hunting lodge.
Trophy Mountain
Trophy Mountain is in the Hartslog Valley, near Huntingdon in central Pennsylvania. They have over 700 acres with no fences, so all hunting is fair chase only. Deer are hunted during the deer season and licenses are required. There is a lodge that can sleep up to 17 people, and also a two-bedroom mobile home for rent. Hunters bring their own food and the kitchen is fully equipped. There is also a large pond stocked with bass and lots of hiking trails.
Photo Credits
Tom Brakefield/Stockbyte/Getty Images