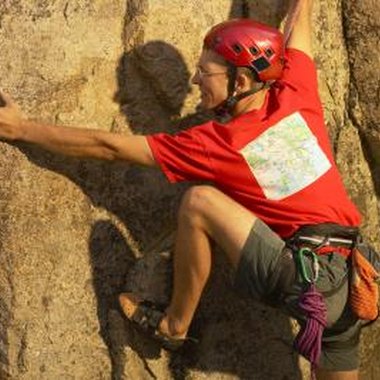 Rock climbing is an exciting and challenging way to push your mental and physical limits. Whether you are looking for a beginner's level climb or a muscle-taxing challenge, San Antonio, Texas, has several extreme climbing spaces nearby, with climbs for all skill sets. Each climbing location offers diverse natural beauty and opportunities to hike, climb and picnic.
Enchanted Rock State Natural Area
Located in Fredericksburg, only a one-hour drive from San Antonio, Enchanted Rock State Natural Area (wildtexas.com) offers a great day trip for extreme climbers and modest hikers alike. Although there are hiking trails up to the rock's summit, for those adventurous climbers looking to break a sweat, blazing your own trail up the rock face is the way to go. Enchanted Rock State Natural Area does get crowded, so go during the week to avoid crowds and set out as early as possible.
Monster Rock
Monster Rock (monsterrock.info), a popular spot for climbing experts, is just outside of Pace Bend Park, two hours north of San Antonio. Monster Rock is a rock-climbing park that offers more than 50 routes ranging from 5.6 to 5.13. Rock climbers in the United States use a 5.0 scale. The five indicates that it is a climb versus a hike, and the decimal indicates how difficult the climb is. The park also boasts mildly overhanging walls, steep face routes and riverside bouldering for those climbers looking for the most extreme experience. Annual memberships and day passes are available for mountain climbers up for the challenge.
Milton Reimers Ranch Park
Milton Reimers Ranch Park (co.travis.tx.us), located less than two hours' drive from San Antonio, is a county-owned park full of rock faces and cliffs to test even the most experienced rock climber's skills. With more than 200 climbable routes, ranging from 5.6 to 5.14, Milton Reimers Ranch Park is a worthwhile day trip for any San Antonio climber. The majority of the park's routes offer views of the Pedernales River, a picturesque tributary of the Colorado River. At the time of publication, the park is open seven days a week and charges an $8 per vehicle entrance fee.
Barton Creek Greenbelt
Barton Creek Greenbelt's (texasoutside.com) more than 800 acres of lush forest and sheer cliff faces offer extreme climbers a run for their money. One of Barton Creek Greenbelt's most challenging routes, The Great Wall, is a steep limestone face ranking at 5.12 in difficulty. Other challenging routes are Urban Assault and the Seismic Wall. The area is also known for its natural swimming pools and rope swings; go during the spring or summer to take advantage of the warm water temperatures. Barton Creek Greenbelt is open daily; no vehicles are allowed.
Photo Credits
Hemera Technologies/AbleStock.com/Getty Images