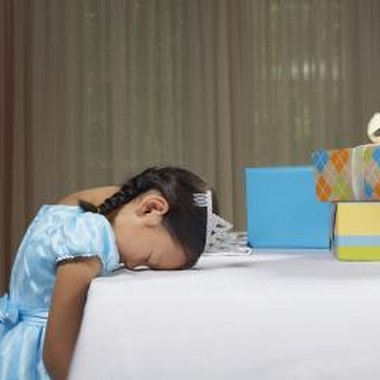 Is your 10-year-old tired of the same old pizza and cake birthday party? Give her an extreme birthday party this year that she'll never forget. Whether you whisk her and her guests off to an exotic destination or take them on an adrenaline-packed adventure, an extreme birthday party will have everyone clamoring to be on her guest list next year.
Bring the Attraction to You
No need to buy circus ticket for your 10-year-old and his friends. Instead, set up a giant circus tent in a large open space. Rent carnival games and hire entertainers. Supply all the food he and his guests could want. Hire animal handlers to put on a show for the kids and rent awesome supporting activities, such as inflatable slides. For a dance-loving 10-year-old, a cleared-out living room just isn't enough. Turn your backyard into a genuine dance club with a light-up dance floor and lots of black lights and glow-in-the-dark decorations. Set up a "bar" for guests to get soft drinks and juice. Hire a squad of professional dancers to teach the kids different dance moves.
Get Outside
Nothing is as unpredictable or extreme as Mother Nature. If your 10-year-old is up for it, an outdoor excursion party could be just the thing. Book him and his friends on a whitewater rafting trip down challenging rapids. (Check that everyone wears a life vest and instructors are on board.) Build a fire on the bank of the river and cook dinner. Or, get a couple of chaperons and herd the kids off to the woods for a camping birthday party. Hire a guide to lead the group on a nature hike. Go fishing. Build a fire and cook dinner over it. Set up giant tents for sleeping and provide a paintball gun for each guest.
Experience a Rush
Rent all the equipment you need to make your 10-year-old and her friends feel like there's a theme park in her own back yard. Set up several trampolines, a giant foam ball pit and Tarzan swings with nets underneath. You could also get inflatable slides, laser tag equipment and a bungee system. If the weather is hot, long high water slides can help guests cool off. Hire cool entertainers for the party, such as a hypnotist or a fortune teller. Build your own funhouse for the party, complete with wacky mirrors and shifting floors.
Relax
You can go extremes without ending up with screaming kids. For a 10-year-old girl that loves to feel pretty, hire an entire team of stylists and spa workers for the party. Invite her friends and let them spend the party getting styled, manicured, pedicured, made up and made over. Send them shopping afterward in a limousine and give each guest spending money. For a 10-year-old sports-loving boy, rent a private box at a professional sports stadium and invite his friends. Have the party catered with whatever the birthday boy wants. Arrange for several special guests -- his favorite professional players -- to drop in and chat. Buy field and locker room passes for after the game and take a tour of the arena's behind-the-scenes area. Later, head to a hotel and rent a luxury suite for the guests and birthday boy. Stock the suite with snacks, drinks and movies and let them stay up all night partying.
Resources
Photo Credits
Darrin Klimek/Digital Vision/Getty Images