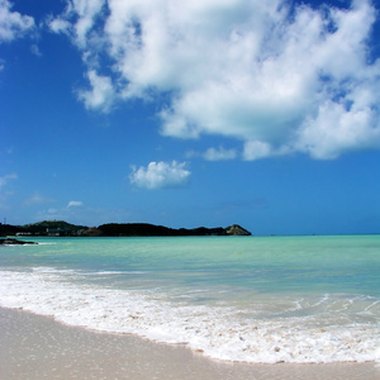 With its surreal beaches, captivating culture, relative proximity to the U.S., and prevalence of English-speaking destinations, the Caribbean has long been a magnet for American travelers looking to swim, sail, slurp parasol-topped rum concoctions and bask in the sun. Travelers looking to spend big money on a Caribbean vacation will find plenty of hotels eager to help with the task, but committing to some research can help ensure that your money is well spent when vacationing at an expensive Caribbean hotel.
Jamaica
Conveniently located within 15 minutes of Jamaica's international airport, Montego Bay's pricey Half Moon Resort offers Caribbean-style rooms, suites and private villas. Villas come staffed with a butler, cook and housekeeper. Guests can access ocean-view balconies, the resort's six restaurants and six bars, golf course, tennis courts and on-sit spa. Spa facilities include aromatherapy steam rooms, outdoor yoga, meditation room and relaxation gardens. There's a beach barbecue for guests on Friday nights, and lovebirds can book couples massages, private under-the-stars dinners and beach-side horseback riding.
Bahamas
With previous visitors including Christopher Columbus, the 700 islands comprising the Bahamas were also listed as one of the most expensive Caribbean travel destinations for 2010, according to Hospitality Net.org. Lounging the beaches of Nassau, hobnobbing in tropical casinos, kayaking and sailing are all activities available in the Bahamas. Although expensive, the Atlantis resort features plentiful kid-friendly amenities, including a 141-acre water park, marine habitat featuring dolphin rescue and rehabilitation programs, 18-hole golf course, and access to yachting and fishing charters. There's also an on-site nightclub and adult-only swimming pool with private cabanas.
Saint Lucia
Saint Lucia is frequently marketed as merely an expensive honeymoon spot, according to Lonely Planet.com. Upscale St. Lucia hotels work hard to provide visitors access to the small island's lush hiking trails, rainforest photography, and world-class sailing. The Landings St. Lucia, an expensive but tranquil Caribbean hotel, offers a private beach outfitted with complimentary sailboats, kayaks and snorkeling gear. Guests can enjoy three pools and two hot tubs, three-story waterfall and helicopter access.
U.S. Virgin Islands
The natural beauty and quiet of St. John is just a short boat ride across the channel from the larger, busier U.S.. Virgin Island of St. Thomas. St. John features miles of coastline hiking trails, soft sand beaches, excellent sailing and plenty of Caribbean restaurants offering homemade barbecue, tropical fruit, fresh fish and strong rum drinks. The Westin St. John Resort & Villas along the island's Great Cruz Bay features cedar-roof buildings, palm gardens interwoven with brick walkways and white sand beaches, according to Frommers.com. Kayaks, sunset sail charters and yoga classes are available to guests.
Photo Credits
antigua caribbean beach image by Andrew Howard from Fotolia.com