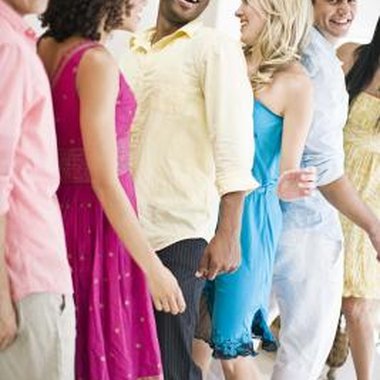 Whether you were popular in high school or had only a small group of friends, you might dread your class reunion. Maybe you're not as fit as you'd like to be, or perhaps you have a little less hair than you did in decades past. For these reasons and others, it's estimated that just 20-30 percent of people attend their class reunions. If you are planning a class reunion, putting together an invitation that sets the mood for a great party can encourage even the most reluctant would-be guests to R.S.V.P.
Themed Invitations
Make sure your invitation showcases the theme of your event, whether it be a barbecue, golf competition or elegant dinner. For an informal reunion, use colorful card stock or one with a fun, decorative theme along the edge of the paper. Make sure to highlight what guests can expect on the invitation as well as all the standard wording, including time and date. If you're planning a formal event, send out classier invitations, perhaps on ivory card stock with a ribbon of your class colors tied through a hole in the top.
Photo Memories
Nothing brings back memories better than a photo of the good old days, hopefully. Candid shots of friends or several photos of homecoming or sporting events can draw in classmates who are on the fence. Make sure to use wording in the invitation that calls to mind friendships and good times, such as "Let's make new memories" or "It's been too long."
Save the Date
Part of getting a good turnout for your reunion is giving people adequate time to plan. With this in mind, you may choose to send out "Save the Date" cards three to six months before you send out the invitations. The card should be simple and include the date and location where the reunion will take place.
Poetic
Consider writing a poem invitation to encourage your classmates to come out and reminisce together. You can include names of classmates, teachers and events that most of your classmates are likely to remember. Have fun but make sure to keep the poem good-natured to avoid offending anyone or hurting feelings.
Photo Credits
Jupiterimages/Brand X Pictures/Getty Images