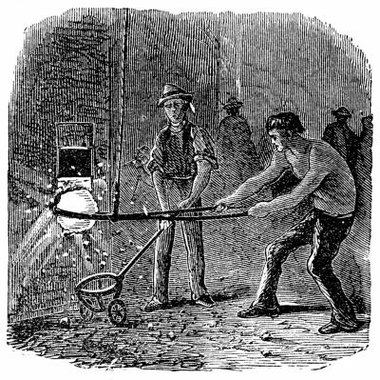 Formed by joining several small towns, Scranton sits in the Lackawanna Valley at the northernmost point of Northeastern Pennsylvania's anthracite coal field. The largest and earliest influx of immigrants to the city included Irish, English, Welsh and Germans in the mid-1800s, attracted by available farm land and jobs in the coal mines and the iron and railroad industries. Nicknamed "The Electric City" due it's being the first town to operate an electrically-powered trolley service, Scranton features a variety of annual events influenced by its cultural, ethnic, religious and industrial heritage.
St. Patrick's Day Parade
Despite a relatively small population, Scranton annually hosts the fourth largest St. Patrick's Day parade in the nation. At least 30 percent of the residents in Scranton claim Irish ancestry, most of whom were employed at local coal mines. Every weekend preceding the holiday, the city's population swells to almost 200,000 green-clad celebrants who line the downtown streets to view the nearly four hour parade featuring more than 112 participants
St. Ann's Solemn Novena
Scranton's St. Ann's Shrine Basilica, as designated by Pope John Paul II in 1996, is the site of an annual Roman Catholic novena attended by thousands of the faithful from around the world. The novena began as the result of a serious mine subsidence in 1911, damaging parts of the monastery and the former St. Ann's Church. Parishioners in this heavily Roman Catholic area attribute prayers to saving the future basilica from another slide in 1913.
La Festa Italiana
As the largest Italian festival in Northeastern Pennsylvania, Scranton's annual La Festa Italiana features cultural food, music, crafts and art from about 70 vendors every September. A courthouse square fixture since 1975, the downtown festival is planned and operated by a committee of volunteers who donate the profits to local charities. Performers offer examples of Italian regional music, clothing and dance and chefs prepare everything from homemade pizza to fine Italian cuisine.
Scranton After Dark
The paranormal is not ignored in Scranton's long history of violence and disasters. Scranton After Dark is an annual walk through some of the city's most haunted areas, including a downtown building once used to store the bodies of 1918 flu epidemic victims and the pub where Scranton native Jason Miller, author of "The Exorcist," died. The tour, sponsored and escorted by the members of the Lackawanna Historical Society, operates for several nights in October.
Resources
Photo Credits
Photos.com/Photos.com/Getty Images