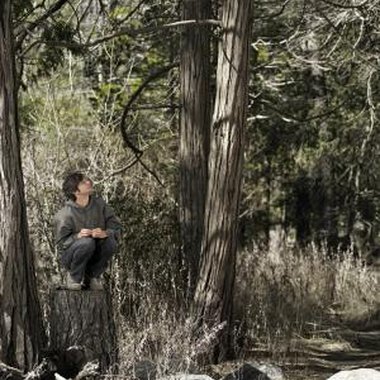 Incorporated in 1910, Hemet is now a city of over 70,000 residents. The mild weather -- above freezing all winter and below 100 degrees all summer -- made it a popular location for retirees who make up a third of the city's population. The Hemet Valley is nestled next to the beautiful San Jacinto mountain range, which provides the perfect venue for outdoor as well as indoor events.
Ramona Pageant
The Ramona Pageant is an outdoor play set in Riverside County, California of the late 1800s. The fictional play tells the tragic love story of the lovely Spanish girl Ramona and her Indian lover Alessandro. The story has played out annually since 1923 in a natural amphitheater -- the Ramona Bowl Amphitheatre -- located in the hill country just south of Hemet. Based on the famous novel "Ramona" by Helen Hunt Jackson, the Ramona Pageant is one of Southern California's most popular events. The role of Ramona has attracted major stars, ranging from Mary Pickford to Raquel Welch. Spectators sit in a 5,400-seat open-air theater surrounded by magnificent mountain scenery.
Hemet Ryan Air Show
The Ryan Airport -- named in honor of Claude Ryan, who designed Charles Lindbergh's famous plane, the Spirit of St. Louis -- has a 50-year history of war and peacetime service. Originally part of a flight-training base for World War II pilots, it is now a Riverside County-owned public airport that annually hosts the Hemet Ryan Air Show. Spectators are treated to aerobatic shows and U.S. Air Force demonstration team performances. Daredevil skydiving teams create impressive in-air formations. Attendees will see the latest airplane technology in flight alongside still-active vintage aircraft.
Science Under the Stars
The Western Science Center in Hemet houses a treasure trove of paleontological specimens, such as mammoths and mastodons -- some as old as 230,000 years -- unearthed during the excavation of the nearby Diamond Valley Lake. The Science Center offers special events in addition to its displays, including the annual Science Under the Stars. During this event, participants can enjoy dining, local wines, and entertainment, such as parachutist displays, dog-herding contests and an exclusive auction event. The museum is kept open during the special evening events so visitors can enjoy permanent museum exhibits and temporary attractions, such as "Be the Dinosaur."
Casino Gaming and Entertainment
Hemet is centrally located between two Indian gambling casinos offering entertainment events. West of Hemet, in neighboring Temecula, is California's largest casino -- the Pechanga Casino --with 200,000 square feet of gaming areas and a 517-room resort hotel. Pechanga's 1,200-seat Pechanga Theater stages events featuring entertainment greats like Bill Cosby, George Lopez, Ray Romano and David Copperfield. The Soboba Indian Casino, directly east of Hemet, stages events such as the Soboba Band of Luiseno Indians Pow Wow and shows headlining big-name recording artists in their 3,500-seat outdoor arena.
Photo Credits
Thomas Northcut/Digital Vision/Getty Images