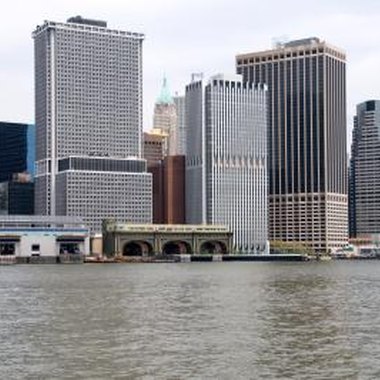 In New York City, most of the hotels are as grand as the attractions. High-rise accommodations tower of the city much in the way the Empire State Building and Statue of Liberty do. A few hotels in Manhattan don't fit into this category, but instead reflect the European style of small hotels, which are individually or family owned. These boutique properties offer complimentary food, beverage and amenities, as well as individualized décor in the rooms and common areas.
Hotel Elysée
When you walk into the lobby of the Hotel Elysée, you may forget that you are in New York City and feel transported to Paris with the French attention to artwork and furnishings. It's been visited by writers and artists since it was built in the 1920s. This European-style hotel is in Midtown, not far from Fifth Avenue shopping, Central Park and the Theater District. The hotel has 100 rooms and suites, some with quaint balconies.
Casablanca Hotel
It's hard not to imagine Humphrey Bogart and Ingrid Bergman playing classic "Casablanca" scenes when you enter this hotel, which even has its own "Rick's Café." In this case you won't find a piano, but Casablanca Hotel's lounge has complimentary refreshments 24 hours a day, with a European flair in the food and beverage selection, as well as the décor. Even though this boutique hotel is in the heart of Times Square, with only 44 rooms it keeps an intimate feel.
Hotel Giraffe
The Hotel Giraffe is on New York City's Eastside, near the neighborhoods of Union Square and Chelsea. It integreates European-style sophistication into a small, graceful boutique hotel. Among the 72 rooms, two-thirds have petite Juliet balconies, further giving a European feel. If you want to step back into current-day America while at the Hotel Giraffe, the concierge can offer free passes to the New York Sports Club
Considerations
European-style hotels in New York City can book up fast since they don't have as many rooms as the larger accommodations. Leave time in your morning plans to linger over the complimentary breakfast the way it's served in Europe, with pastries, breads, fruit, yogurt, and even cappuccino. At the Hotel Elysée, the Casablanca and the Hotel Giraffe, you will also have a cocktail hour with free wine -- including Prosecco, an Italian sparkling wine -- and hors d'oeuvres.
Photo Credits
Jupiterimages/Photos.com/Getty Images