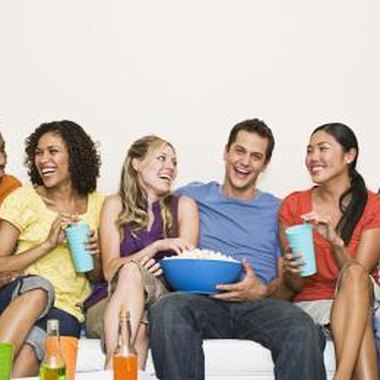 An open house party typically is held for a predetermined number of hours, usually at the host's home. This type of party is much more informal than a traditional housewarming or other types of parties and is one where guests are invited to come and go freely. The open house format is especially beneficial in accommodating a large number of guests with limited space. Despite its informality, there are certain rules of etiquette for throwing open house parties.
Party Preparation
Although open house parties tend to be lighter and less formal than traditional housewarming, holiday or celebration parties, they still require proper planning and preparation. An open house should last from four to six hours to allow guests ample time to make an appearance. It's best to schedule your party on a day where you can really spread out the time, like a Sunday, to cover afternoon and evening hours and better accommodate guests. Keep in mind that your menu selections should reflect your party time frame.
Invitations
Proper etiquette suggests you select your open house party date well in advance, especially if planning around a holiday, and send out invitations several weeks before. Rather than mailing traditional paper invitations, an open house party is the perfect opportunity to take advantage of e-vites. Make it very clear to your invited guests that you are hosting an open house so that everyone realizes they are not expected to stay from the start time to the end time. It may be advantageous to include "Come any time between the hours of..." on the invitation to avoid any confusion. Also, hosts should make it very clear whether children are welcome or if the party is adults only. Should you decide to include children, it may be wise to hire a babysitter so that you and your guests may better enjoy the party.
Food
Planning a simple menu allows more time to mingle with party guests and preparing appetizers, finger foods and desserts in advance frees up time more wisely spent on the main entrees. Keep in mind the time frame you chose when putting together your menu. For example, if your party is scheduled from 10 a.m. to 2 p.m., a brunch menu would be most appropriate. Picnic-style menus work for early- to mid-afternoon parties, whereas a dinner menu is most befitting a late afternoon or evening open house.
Decor
Adhere to one party theme, whether a holiday or a particular set of colors, and welcome guests with your seemingly uncomplicated decor. Be creative and incorporate items already in your home, which ultimately minimizes your decorating costs. Bestow depth and texture to your tables by using varying heights of serving platforms. Integrate household items as serving dishes, such as an unexpected chalice for holding mixed nuts or candies.
Guest Etiquette
If you desire, require an RSVP or Regrets Only response for party guests, no matter how casual the party. This allows hosts to provide appropriate amounts of food, drinks and seating. Make an effort to mingle with all of your guests and introduce guests to each other so you don't feel obligated to entertain only a few people. To simplify clean-up afterwards and contain the party during the open house, clearly designate certain areas for the event -- with decorations or closed doors, for example -- rather than allowing guests to assume the term "open house" is an invitation to roam throughout the home.
Photo Credits
Jupiterimages/Brand X Pictures/Getty Images