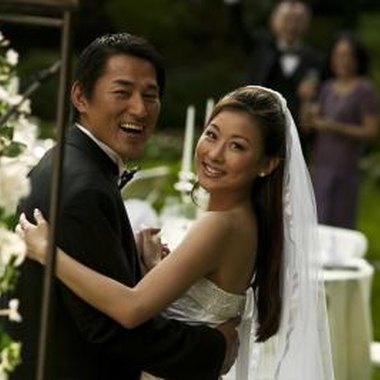 Wedding gifts can be sent to the engaged couple before the wedding, at the engagement party, at a bridal shower or at the wedding itself. Don't pay attention to the cliché that tells you that wedding guests have up to a year to send a gift -- it's not true. Several rules of etiquette surround the giving and receiving of wedding gifts at an engagement party or shower.
Registry Etiquette
Contrary to what some people may tell you, it's not greedy to prepare a wedding registry at a few stores. Wedding registries are great ways to let people know what you actually need as a married couple, and so will both help you avoid "quirky" gifts from your estranged aunt as well as prevent head-scratching on the part of your guests. You can also eliminate the guesswork for guests as they will only be able to purchase items from your registries that have not already been purchased by another guest. It is, however, totally tacky to include registry information on a wedding invitation or save-the-date card. Wedding registry information is passed by word of mouth or posted to wedding websites for guests to reference at their leisure.
Gift Giving
If you are giving a gift to the engaged couple, make sure the gift is emblematic of their married life together and not simply a gift for the bride or groom -- save those for the bachelor and bachelorette parties, though you are under no obligation to give such a gift. Make use of a registry or registries if the engaged couple is using them. If not, use your judgment. A handmade vase from a potter friend or a piece of visual art from a painter are always sure hits. Stay within your budget and choose a gift that is either tasteful or practical -- ideally both! Wrap your present neatly, and -- most importantly -- make sure you securely attach a small card to your gift that identifies the sender. This will make the couple's thank-you note writing process much easier and more efficient.
Presentation of the Gifts
If you are giving a gift, you don't need to physically present the gift to either the bride or groom. If you are receiving gifts at your wedding engagement party, set up a table near the venue's entrance so that guests can place their gifts there without fanfare or confusion. Guests should quietly drop off presents as they arrive at the shower or party. Avoid opening gifts at showers or engagement parties -- it's tacky and takes time away from an opportunity to celebrate good fortune and good friendship.
Acknowledging Gifts
If you have received wedding gifts, etiquette dictates that you have about three months from the date of your wedding to send a written acknowledgment thanking the guest for the gift. It's essential to be specific and genuine in your thanks, and format is also important. Don't use email. A handwritten thank-you note speaks volumes about how much you value your wedding guests and the money and effort they spent in buying you a wedding present. If you can, send a thank-you note promptly -- within a week -- upon receiving a gift before your wedding. Use a spreadsheet if necessary to keep track of people you have thanked and people you have yet to thank, as well as keep track of who gave you what. Name the gift in your thank-you note or describe how you will use it. For cash gifts, thank the giver for his generosity without mentioning the exact amount. At your wedding engagement party or shower, it's not necessary to verbally thank each guest for bringing a gift. Leave the gifts alone on their designated table until after all of your guests have departed.
Photo Credits
Comstock Images/Comstock/Getty Images