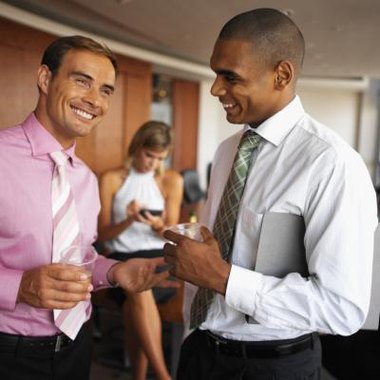 In terms of etiquette, business invitations typically follow formal invitation protocol. While informal invitations, whether written, sent via email or extended over the phone, are becoming more acceptable, formal printed invitations present the best business image. Addressing business invitations is almost as important as the wording of the invitation itself, as it extends respect for titles and provides necessary information for responses.
Addressing the Recipient
Addressing invitations involves more than simply directing to whom the invitation is offered. Titles are important, even for the most informal business affair. As such, when addressing an invitation to a specific person, titles should be formal, yet neutral. For example, when sending a corporate invitation to a female, the title "Ms." should be used to avoid misuse of "Miss" or "Mrs." Full names, minus initials, should be used, unless initials are used in everyday professional communications.
Directing RSVPs
Inside the invitation, an address or contact information for RSVPs is expected. According to protocol, the RSVP information is placed in the lower-right corner of the invitation. If appropriate, the name of the person to whom RSVPs should be directed is placed above the address or other contact information. As with addressing the recipient, the use of formal titles for the person in charge of RSVPs is considered proper business etiquette.
Mailing Address, Outer Envelope
On the outer envelope, the mailing address should also adhere to formal protocols. Words such as "street," "avenue" or "boulevard" are spelled out, rather than abbreviated. The return address is placed at the top-left corner, rather than on the back flap as is common with wedding or other personal invitations. The recipient's address is centered in the lower half of the envelope and should include full name with title, "care of" company name and the full mailing address.
When in Doubt
In the case of informal events or invitation recipients with whom a close personal relationship is shared, it may be tempting to relax formal business protocol. While such practices may be acceptable in certain settings, it is important to maintain a professional approach to invitations. When invited guests are a mix of business and personal contacts, it is always best to choose a formal address. When in doubt, formal business etiquette should be followed.
Photo Credits
Stockbyte/Stockbyte/Getty Images