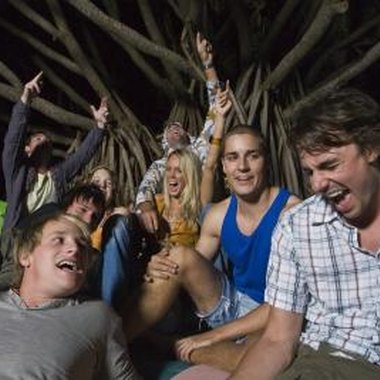 The arrival of summer vacation means the beginning of party season for many teenagers. Parents may be apprehensive about their kids attending parties where there could be drugs or alcohol. An alternative is a party organized by parents. Parent organized parties could involve the whole class and be organized by the Parent-Teacher Association. The parties could also be more intimate, organized by one parent for their child and a group of friends.
Camping Trip
Camping trips are an opportunity for a teen to spend quality time with their friends. It also gets them out of the house and encourages a connection with nature. Plan a camping trip for a few day to a week. The teens can have a party with music, outdoor games and camp food. Depending on the age of the teens involved, you could book two campsites, one for parents and one for kids. If the sites are beside each other, you can keep an eye on the teens while giving them space. If you're friendly with the parents of your child's friends, plan a group camping trip.
A Day at the Beach
A beach party is perfect for the hot summer months. Get a group of parents to commit to a date, load up your cars and take the kids to the beach. Bring volleyball nets, air mattresses and a portable stereo. Pack party decorations and decorate the picnic tables and surrounding trees. If any of the parents have boats, they could teach the teens to water ski or wake board. Many beaches have grills, so bring hot dogs and other summer party foods. Make sure the beach has a lifeguard on duty.
Backyard Party
If you're willing to have a group of teens at your house, you could have a class party in your backyard. Pools and sprinklers will help the kids cool off and you'll have an on-site kitchen and bathroom. Make it a potluck, with each teen bringing food or drinks. Decorate the backyard with lanterns and tiki torches. Invite the kids to play their music on your stereo. Find out if any of the teens are in a band and hire them to play the event. As a courtesy, pass out fliers to your neighbors in advance, stating the date and time of the party, so they aren't annoyed on the day of the event.
A Movie Premiere
For a class party or a party with a large number of teens, rent out a theater at your local cinema. All of the teens and their parents can chip in to pay for it and you'll have an entire movie screening exclusively for your child's friends and classmates. The release of summer blockbusters coincides with the end of the school year, so have the teens vote on what movie they want to see. By reserving the whole theater you're giving teens the option of leaving lights on, walking around and talking to their friends. They can get dressed up as if they're going to a movie premiere and you can decorate the theater with streamers and balloons.
Photo Credits
Jupiterimages/BananaStock/Getty Images