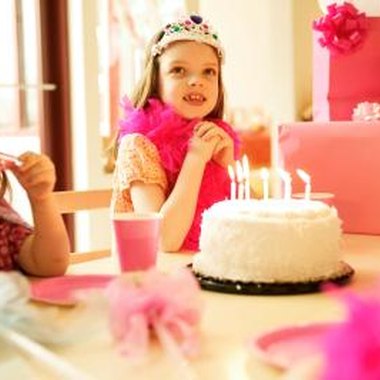 Princesses in many storybooks and Disney movies live in an enchanted castle with their one true love. An enchanted kingdom is a preferred birthday party theme, especially if the child can't choose just one princess to adore. Use your child's favorite books and movies as inspiration for the party planning.
Invitations
Fold a piece of card stock in half lengthwise and cut it into the shape of an enchanted castle's tower, leaving a large portion of the folded edge intact. Decorate the front by gluing gray tissue paper squares to look like stone blocks and write the party details on the inside. Another idea is to write the party details with a calligraphy pen on the inside of a rolled scroll. Encourage dad to hand-deliver the invitations on a satin pillow dressed as a handsome prince.
Decorations
If you are artistically inclined, cover one wall of the party room with mural paper and draw a large castle on the paper. If not, contact a printing company and ask for a castle coloring book page to be enlarged and placed on the wall. Children can color the castle as a party activity, or you can paint it for decor that aligns with the theme. Purchase faux silver disposable tableware. Hang pastel-colored streamers and balloons bunched with faux floral vines hanging from the corners of the room. Another idea is to cut a large refrigerator box into the shape of a castle for the children to play with.
Party Activities and Favors
Children can make princess wands and swords from dowel rods, paper towel rolls and other craft supplies such as ribbon, sequins, markers and glue. Encourage the children to use their imaginations to create their own party favor. Another craft and favor idea is to encourage the party guests to create their own enchanted castle from sugar cubes adhered together with fast-drying craft glue. Frog-shaped sugar cookies iced and decorated in green are an appropriate take-home treat for the party guests.
Food and Cake
Make finger sandwiches for the party guests as a food option, and use a cookie cutter to shape the sandwiches into an enchanted crown or castle. Shape the child's birthday cake as a castle by baking a two-layer cake and using different size ice cream cones covered in icing or fondant as the castle's tower points. Use edible pearl dust on your food and cake to make it look magical like Tinkerbell's fairy dust or the magical dust of the Fairy Godmother.
Photo Credits
Jupiterimages/Photos.com/Getty Images