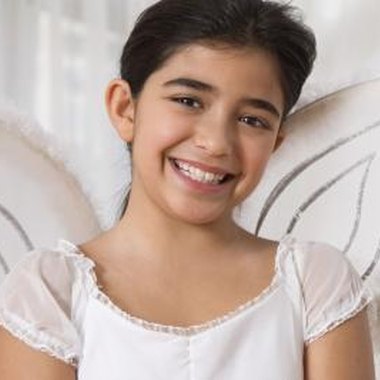 Take your event out of doors by hosting an enchanted forest party which combines the tranquility of nature with the excitement of the fantastic. Mold your party around a particular flower such as Forget-me-nots and add a dash of glitter to turn them into enchanted fairy flowers. Be sure to temper the fantastic elements with the variety of brown and green shades found in a forest.
Invitations
Invite friends and family members to attend an enchanted forest party by sending a box containing fairy wings for girls and women to wear and elf ears for boys and men to wear. On the top of the box write the party information including the time, date, location and RSVP. Another idea is to send a small bouquet of Cleomes, also known as spider flowers, or a couple of bluebell sprigs to would be guests. Write the party invitation on a card and attach it to the flowers. Inform guests that they will be entering an enchanted forest and if they wish may dress like a fantastic creature such as an elf, fairy, troll, gnome or pixie.
Decorations
Use items found in nature to decorate the party area. Cover party tables with moss colored table runners, or fill cookie trays with floral moss and line the trays down the center of the table. Make enchanted fairy trees by bundling twigs with pink ribbon and scrape the bark off of the top inch of the twigs. Place the bundles in vases to use as center pieces. Twist wire with crystals around the twigs and drape cotton candy across the tops of the twig bundles for cotton candy trees. Hang small paper lanterns across above the tables and cluster mason jar candle holders on the tables. Cut small fairy-sized doors out of plywood and paint them brown, black and white. Put the doors at the base of live trees outside to add to the idea of an enchanted forest.
Food
The food you serve will add to the enchanted forest atmosphere. Make toadstools by topping boiled and peeled eggs with halved cherry tomatoes sprinkled with salt. Grill stuffed portabella mushrooms, bake miniature shepherd pies and toss individual cobb salads. Serve fruit kabobs, a variety of cupcakes like lemon, German chocolate and white cake and flower shaped cookie bouquets for dessert. Fill glass dispensers with lemonade, sweet tea and ice water. Rename each food on a piece of card stock. For example, rename shepherd pie as gnome pie and lemonade as pixie nectar.
Party Favors
Fill party favor boxes with candied apples on cinnamon sticks or tie several packets of flower and vegetable seeds together with a ribbon and give to guests as they leave. Or give everyone flavored honey straw bundles with thank you notes attached. On the opposite side of the thank you note list a few of the ways the honey straws can be used. For example, they can be drunk, stirred into a cup of tea or coffee or poured on peanut butter when making a peanut butter sandwich.
Photo Credits
Creatas Images/Creatas/Getty Images