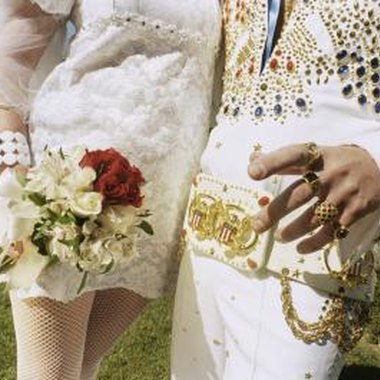 Elvis Aaron Presley was born Jan. 8, 1935, and just 21 years later in 1956, he was an international star. His list of accomplishments includes 33 movies, over a billion records sold globally, three Grammy wins, and a Grammy Lifetime Achievement Award, all of which support the ground-breaking music and charisma that has inspired hundreds of artists since and drives an ever-growing fan base despite his death in 1977. Fans throw extravagant parties in the King's honor -- and what would an Elvis party be without a few games to keep the energy going?
Name That Tune
With music playing such an important role in the life of any Elvis fan, a game focused on his many songs is eagerly expected and greatly enjoyed. Start by playing the first notes of some of his most famous hits, and have guests compete to guess the title. Make the game harder by playing clips of the middles or ends of his songs, or bits of some of his lesser-known songs, or by requiring not only the name of the track, but also the album name.
Strike a Pose
This game is perfect for young-to-preteen children and has several variations. In one version, one guest stands in the center of the room wearing a pair of Elvis-style sunglasses. While the music is playing, he performs his best Elvis dance routine while other guests dance in pairs around the star. When the music stops, the star tosses the sunglasses to someone else, who takes the place in the center. Everyone switches partners, and the dance continues until everyone has had the chance to be the star. Another version has guests dancing as the music is playing. Once the music stops, everyone must strike a favorite Elvis pose, and whoever "loses" must sit out the next round. Another idea is musical chairs, played to everyone's favorite Elvis tracks.
Elvis Impersonators
Ask guests to show up in their best Elvis costumes, and have them vote to see who most looks like the King. Other variations include dance contests that, of course, feature the infamous moves of Elvis, as well as vocal contests. An Elvis karaoke contest not only livens up the party, but also offers guests the chance to really let loose while singing all of their Elvis favorites.
More Party Games
For guests who are a bit too shy to join in with all the hip-shaking fun, play a friendly round of Pin the Tail on the Hound Dog, or compete as teams in an Elvis trivia game. Grab some old records and clear off the floor for a game of Let the Good Times Roll. Ideal for children and adults, this game has competitors rolling vinyl records along the floor. The goal is to see who can roll them the furthest. Make a goalie line or an on-ground bull's-eye to make the game more challenging for older players.
Resources
Photo Credits
Digital Vision./Digital Vision/Getty Images