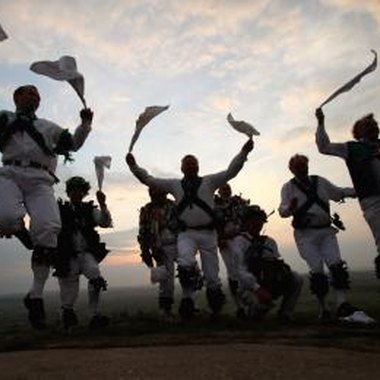 The Elizabethan era represents a time of great festivity, with a calendar broken up into many religious and secular days of frivolity, music, drama, feasting and singing. People enjoy commemorating important dates throughout the year such as the feast of saints, the beginning of a season or the start of a new harvest, giving each month celebrating times of meaning, joy and relaxation.
Seasonal festivals
People in the Elizabethan era celebrated the beginning of each season with festivities and feasts. They celebrated the first day of spring on February 2 as Candlemas, when residents officially discarded decorations left from Christmas. The first day of summer was celebrated on May 1 -- May Day -- an ancient festival in which people elected a May Queen and a Green Man and danced around a maypole. Michaelmas, on September 29, marked their first day of autumn, when people gave thanks for the Archangel Michael's defeat of the devil and protecting heaven. Halloween on October 31 and All Saints Day on November 1 take place as prime winter festivities.
Agricultural festivals
Plough Monday is the first Monday after the 12 days of Christmas, with a traditional blessing of the ploughs for the forthcoming season. Farmers take part in drama, dancing and music. The first wheat harvest of the season is Lammas Day on August 1. This continues for 11 days, during which times people eat loaves of bread made from the new grain and predict future love matches. The official end of the harvest takes place on Michaelmas.
Church Festivals
The most important festival on the church calendar is the famed 12 days of Christmas, followed in importance by the weeklong Easter holiday. In addition, people celebrated Shrove Tuesday, or Shrovetide, the day preceding the 40 days of lent. While lent is a time of abstinence and devotion, Jeffrey L. Singman, author of "Daily Life in Elizabethan England," states Shrovetide is to be celebrated with wild abandon similar to that of modern day Mardi Gras. All Saints Eve and All Saints Day on November 1, also known as Hollowmas or The Day of the Dead, is a Catholic festival celebrating the departed souls of saints, martyrs and holy or devote people. Other festivals with religious origin include Saint Valentine's Day on February 14, Saint Swithin's Day on July 15 and Saint Crispin's Day on October 25.
Other festivals
Other festivals to celebrate on the Elizabethan calendar are Accession Day on the 17 of November to commemorate the day on which Queen Elizabeth I ascended the throne of England, and the Lord Mayor's Show on November 12, celebrating the role of the new mayor of London.
References
"Daily life in Elizabethan England"; Jeffrey L. Singman; 1995
Photo Credits
Matt Cardy/Getty Images News/Getty Images