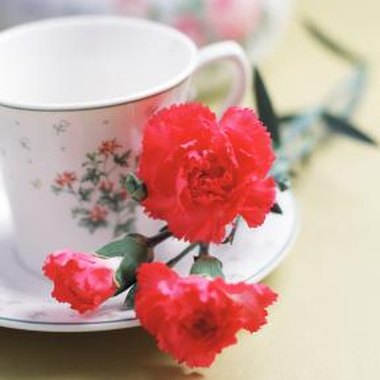 To come up with elegant birthday party ideas for girls, just think of the elegant parties that women attend. They wear their finest clothes to gatherings during the day and the evening. They enjoy gourmet foods and lovely party settings. Do the same for girls to ensure an elegant event and a very happy birthday.
Tea Party
One elegant birthday party for girls is a formal afternoon tea party. Arrange this at your home, a tearoom or a private room in an upscale restaurant. Request that all girls attending wear party dresses, as this is a formal affair. Serve the tea (or have it served) in pretty floral china teacups and teapots. Offer traditional tea foods such as cucumber sandwiches, lemon bars and scones with clotted cream and fresh jam. Ensure an elegant atmosphere with classical music, fresh flowers on the tables and linen tablecloths and napkins.
Dinner Party
A formal dinner party is an elegant way to celebrate an older girl's birthday. Host an event at your home. Cook the food yourself, or have it catered if it's in the budget. Ask girls to wear their best gowns. Set the table with a linen tablecloth and napkins, fresh flowers, sterling silver (if possible) and tapered candles. The most elegant meal possible is a seven-course menu consisting of an appetizer, soup, fish, palate cleanser such as a sorbet, entree, cold salad and dessert. You may eliminate two courses, but make sure you keep the palate cleanser. Also, plate the food in the kitchen before serving the girls.
Spa Birthday Party
Girls love to be pampered, so give a girl an elegant spa birthday party. Go to an upscale spa or host the event in your home. When girls arrive, have them change into white spa or terry cloth robes and matching white spa slippers. Serve fancy punch cocktails with fruit floating inside. Provide at least one facial treatment for each girl. Offer manicures, pedicures and foot-and-leg massages. Serve gourmet salads and fresh fruit for lunch with iced teas or flavored waters.
Considerations
The elegant party your throw for your birthday girl should include equally elegant invitations and favors. Print out invitations on your computer or order them from a stationery store. Make sure the party favors match the theme of your event. For a tea party, give teacups filled with chocolate. For the formal dinner, give a small silver box or a charm bracelet to each guest. For a spa party, give terry cloth makeup bags with a few scented soaps inside. Your guests will remember the fine details, and your birthday girl will remember the wonderful celebration for the rest of her life.
Photo Credits
Jupiterimages/Photos.com/Getty Images