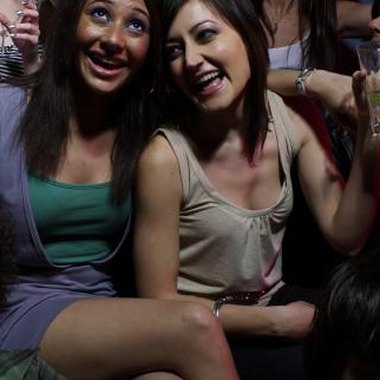 Bachelorette parties have a reputation for being wild and rowdy affairs. However, that doesn't have to be the case. A multitude of elegant themes and motifs can not only give this particular girls' night out a glamorous and classy overtone, but can also help inspire everything from party favors to attire requirements.
Black-and-White
Send invitations with silver and gold writing in a calligraphy font. Specify that attire be black and white. To make it fun, encourage girlfriends to come dressed in tuxes. The bachelorette should wear elbow-length white or black satin gloves and a black-and-white boa. If economics aren't an issue, rent a dining room at a ritzy hotel or a five-star restaurant. Create a menu with such delicacies as caviar, lobster, chocolate-covered strawberries and champagne. Decoration ideas include using top hats as centerpieces. Set them upside down and fill them with large rhinestones or fake diamond rings that girls can take home. Fill crystal bowls with water, scatter rose petals in the water and add floating candles shaped like white flowers. For a romantic touch, either set single red roses in slender vases or a dozen roses in a larger container.
Fairy Tale
Bachelorettes can use their party to play princess. Send invitations with images of pumpkin carriages or fairy-tale castles on them. Many cities have medieval-themed restaurants that serve dinner and have shows featuring jousts and tournaments, so explore renting a table and taking in a show. If the venue is home, make a cardboard cutout that looks like the entryway to a castle and set it up at the door. The bride-to-be should be referred to as "Princess" and wear a tiara throughout the party. Drape the chair she will sit in with gold fabric so that it looks like a throne, and serve drinks in silver or pewter goblets. For decorations, use miniature crystal castles, wire carriages and small crowns. Let the girls go home with sachets of gold glitter and say it's fairy dust, or give them copies of the bachelorette's favorite fairy tale with the date of the event inscribed on the inside.
Hollywood
For the movie-loving bride, plan an evening centered on some of Hollywood's most romantic films. Start by sending out paper clapper board invitations and word them so that the party is "starring" the bachelorette. List the date of the event as the "premiere." Roll out a red carpet and hand girls popcorn buckets as they come in. Pick romantic films that contain wedding scenes and have stylish and chic overtones. Suggestions include "Gentlemen Prefer Blondes" (1953), "Father of the Bride" (1950) and "High Society" (1956). Set up a faux Oscar statuette engraved with the bachelorette's name and use it as a centerpiece, or have miniature statues passed out to the party attendees when they leave. Take a cue from the Academy Awards and set up a game in which the girls vote on funny moments in the bride-to-be's life. For example, guests can vote on such subjects as the worst fashion trend the bachelorette ever fell victim to, the worst boyfriends of yesteryear or the funniest moments they have shared.
Pampering
Plan a spa day. Many spas offer packages for large groups that include food and beverages to go along with the pampering, or try the DIY option. Have guests change into bathrobes and fill the home with aromatherapy candles that smell like lavender. Play relaxing music and, if possible, keep the lights dim and soothing. One soft lighting option is paper lanterns. Fill plastic tubs with warm water and scented oils. Set out baskets with various shades of nail polish, travel-sized lotions and nail files. Serve foods such as fruit, cheese and crackers to keep with the healthy theme. Drink ideas include herbal teas, mimosas and fancy champagne cocktails.
Photo Credits
Michael Blann/Lifesize/Getty Images