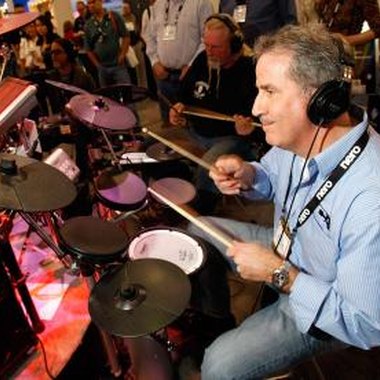 Drum sets can take up a great deal of space and annoy neighbors because they are difficult to play quietly. If you have always wanted to learn to play the drums but it is impossible for you to own a full-size drum set, electronic drum pads may allow you to achieve your dream. They offer sound similar to those elicited from a regular drum set, but you can adjust the volume on these electronic instruments, and they are much smaller and easier to transport. Many brands of drum pads cater to beginners and can help you foster and improve your new skills.
Deciding on a Drum Pad
So many electronic drum pad options exist for beginners that choosing a brand can be difficult. Consider the genre of music you wish to learn to play, how much money you are interested in spending, how accurately you wish your electronic pads to mimic a real drum set and whether you are interested in eventually using this tool to record or merely need it as a learning device. Consider whether you will be playing the pad alone or with other instruments in a practice setting after learning some basic skills. Once you have decided what you need, selecting a drum pad will be easier. Peruse recommended brands, and visit a local music store where you can try out each instrument to determine whether it suits your individual needs.
Alesis E Practice Drum Pad
The Alesis E Practice Drum Pad is designed for learning and practicing drums rather than performing. It features 65 drum sounds as well as a metronome. The Alesis E is programmed with more than 50 games and exercises designed to help beginners practice and improve. You can also work on stick control by eliciting different volumes and tones based on how hard you strike the Alesis E's sensitive pads. This machine can be operated with batteries or via a wall adapter. Expansion packs are available for those who wish to add bass drums or high hats to build a complete electronic drum set.
HQ Percussion 2-Sided Speed and Workout Pad
The HQ Percussion 2-Sided Speed and Workout Pad measures 6 inches wide and is molded into an eight-sided shape. It is cushioned with gum rubber and neoprene tile for maximum sensitivity. Gum rubber also provides bounce and resistance that mimics an actual drum set so that beginners can practice stick control. The HQ Percussion is marketed to students who are still in the beginning stages and learning to hold their drumsticks. However, this instrument is comprehensive and not specifically a training device, so beginners will not necessarily need to upgrade as they improve.
Simmons SDMK2 Digital Multi-Pad Electronic Drum Set
The Simmons SDMK2 Digital Multi-Pad Electronic Drum Set features four drum pads and 50 rhythm patterns, and can electronically mimic 30 percussion sounds. It is designed for beginners who want to learn on a device that closely mimics an actual drum set in versatility and sound. The Simmons drum pad has an LCD screen and comes with a pair of drumsticks and an adapter. It features games to help beginners to improve their skills, as well as demo songs with which users can learn to play along. The volume control has a large range that you can play as quietly or as loudly as you need.
Resources
"All About Electronic Percussion"; Michael Snyder; 2006
Photo Credits
Ethan Miller/Getty Images News/Getty Images