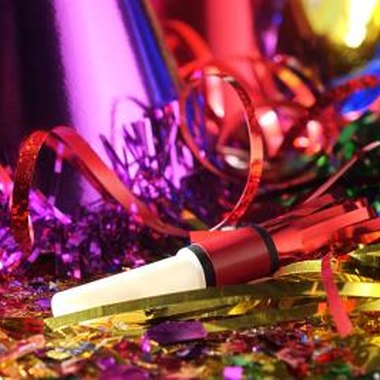 When eighth graders graduate from middle school, it marks a milestone in their lives. They're moving on to high school, where there's a different environment. They're moving on to another stage in their lives, which is no longer considered young childhood. However, it's not yet adulthood. Draw inspiration from the "moving on" theme for parties that you can host at school or off campus.
Decorations
Compare the next phase in the eighth grade students' lives to a car or train ride that's "moving on" to the next stop. In comparing the party to an exit on life's freeway, create and hang exit signs that read "High School 25 Miles" and "Gas, Food and Lodging 10 Miles" out of green poster board. Create a street by drawing and cutting out white and yellow poster board strips. Tape the strips to the floor with the yellow ones in the middle and white ones on the outside. For a train theme, create schedules that read "High School Boarding On Time" using poster board. Hang the schedules throughout the party venue.
Mementoes
The eighth graders are moving on and leaving old memories and things behind. Create a "moving on" capsule. The capsule follows the same concept as a time capsule, but it's focused on things that they will no longer need. Students can place their middle-school books, uniforms and class schedules inside the capsule. Have each student write himself a "moving on" letter. In the letter, students will offer advice to themselves on how to survive high school.
Food
Because students are moving on to high school, serve them a special meal. Let the students pick a special meal for the party. For dessert, give students slices of a cake made with multiple layers. Call the cake a "moving on up" cake because of its height.
Games
Play games with a "moving on" theme. Because the eighth graders are moving on to high school, they will not need the items in their desks or lockers. See who can clean out his desk or locker the fastest during a timed competition. Create a golf putting game that symbolizes moving on to high school. The students use a putter to land golf balls in paper or plastic cups marked with "9th grade," "10th grade," "11th grade" and "12th grade." To advance to a higher grade, students must land balls in "mid-terms" and "finals" cups. The student who lands a ball in a cup marked "graduation" wins.
References
Photo Credits
Thinkstock/Comstock/Getty Images