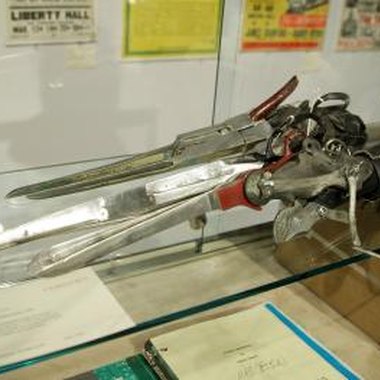 "Edward Scissorhands" is a dark, romantic film from 1990. It was written and directed by Tim Burton. The movie features Johnny Depp who performs the role of Edward; an artificial man who was created by an old inventor in a mansion on a secluded hill. The inventor died just moments before giving his invention human hands, which left Edward all alone on the hill with scissors for hands.
The Beginning of Edward Scissorhands
At the beginning of the film, the audience sees an old woman tucking her granddaughter into bed. She tells the little girl to go to sleep but the girl says that she can't sleep and asks her grandmother why it is snowing outside. The old lady hesitates to answer the question at first, but finally gives in and says that the story of why it is snowing begins with the word "scissors." The grandmother goes on to tell the girl a story about a remarkable man who had scissors for hands.
Edward Meets Peg
The audience is taken back to a time when the grandmother was a teenager. We see her mother; Peg, an Avon saleswoman who is trying her hardest to sell makeup in her cozy suburban neighborhood. With no luck, she looks at the dark, mysterious mansion on the mountain. In a desperate attempt to make a sale, she drives up the curvy road that leads to the mansion and lets herself in the front door. Peg walks up to the top floor of the house and sees a man with wild, stringy hair, solid black clothes and what appears to be weapons in his hands begin to approach her. Peg begins to back away, but soon realizes that the weapons are actually scissors and serve as this man's hands.
Edward Scissorhands Finds a Home
Peg begins to question Edward in the mansion and comes to the conclusion that he is sweet but lonely. She decides to take him to her home and introduce him to her family and friends. Within the next few weeks, Peg attempts to integrate Edward into her neighborhood. He resides in their house and falls in love with Peg's reluctant daughter, Kim, whose character is portrayed by Winona Ryder. Edward becomes well known in the small town and the cause of many controversies.
The Conflict of Edward Scissorhands
Edward soon runs into conflict in the neighborhood, as people become suspicious and wary of him. Kim has a jealous, rude boyfriend named Jim who is extremely hateful toward her and Edward throughout the movie. Edward remains calm, though, and allows Jim to use him for his kindness. Edward only fights back at the end of the movie when Jim hurts Kim during a physical argument. Kim's feelings for Edward changed throughout the film and although they will never have a practical way to be together, the loving feelings remained until Kim was an old woman.
Photo Credits
Stephen Lovekin/Getty Images Entertainment/Getty Images