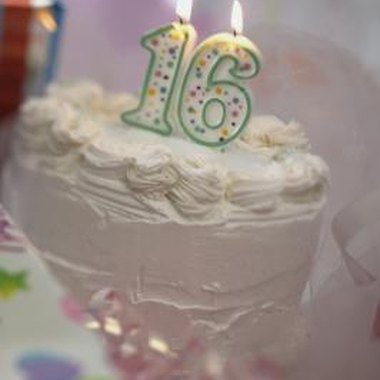 A teenage girl's "Sweet 16" birthday is a very important event that, to many, signifies her entrance into womanhood. Many choose to throw a large party, complete with decorations, a variety of food and even entertainment, honoring the event. If you're throwing a "Sweet 16" birthday party for your teenager, begin by handing out edible cookie invitations to guests.
Baking the Cookies
While you can create edible party invitations out of any kind of cookie, using sugar cookies provides a smooth, light-colored surface that lends itself well to decoration with the party information. Begin by mixing a basic sugar cookie dough, which typically requires butter, sugar, flour, egg yolks, vanilla, baking powder and salt. Once the wet and dry ingredients have been combined and beaten, wrap the dough in plastic wrap and allow it to chill for one hour. Following this, roll the dough out between sheets of waxed paper so that it is approximately 1/8 of an inch thick. Use a large, floured cookie cutter or a knife to cut the dough into large squares, such as 5 by 3 inches. Bake the sugar cookies and allow them to cool completely. Each square is one cookie invitation.
Decorating
Fill a decorating bag with colored icing and attach a small, round decorating tip. Use this to write the party details onto the cookie invitations; choose simple wording and include information such as the date, time and place. If desired, use decorations such as sprinkles or edible glitter to frame the party details on the sugar cookie invitations. Choose colors, designs and textures for your edible cookie invitations based on the decor you've chosen for the birthday party.
Packaging
Allow the icing and other decorations on your edible cookie invitations to harden before packaging each individually. Wrap the invitations loosely in large pieces of cellophane, which can be purchased in rolls at many party supply stores. Tie the cellophane tightly at the top using matching colored ribbon. While these invitations can be mailed to party guests in secure packaging, hand delivering them ensures that the recipients receive the edible cookie invites undamaged and in a timely fashion.
Additional Ideas
If you'd rather not use icing to pipe the party details onto cookie invitations, simply bake a large batch of the birthday girl's favorite cookies, such as chocolate chip or caramel pecan. Wrap portions of two or three cookies up in cellophane and insert handwritten, or typed, information for the birthday party. To add elegance, print the party details on colored or patterned paper that matches the party theme.
Photo Credits
Comstock/Comstock/Getty Images