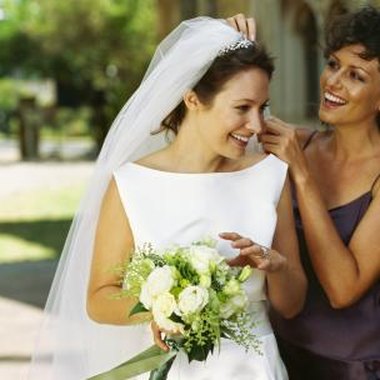 He's popped the question, the ring is on your finger and you're officially engaged. Next comes the planning of one of the most exciting and significant events of every couple's lives. One big decision that must be addressed early on is who will be in the wedding party. Edible bridesmaid invitations are a sweet, different way to ask closets friends and family if they will be an important part on your special day.
Purpose
While many brides just verbally ask their close friends and family members, whether in person or over the phone, to be their bridesmaids, sometimes a grander gesture is more meaningful, as well as memorable. An invitation to be a bridesmaid is a tangible way to ask someone who is significant in the bride's life if she will be a part of the most special day of the bride's life. Sending an edible invitation makes the message even sweeter.
Food
With the wide variety of food items that can be turned into edible bridesmaid invitations, there is bound to be a treat that will please any bride. Layer a smooth blanket of pale colored icing on a sugar cookie, brownie or cake, then write the invitation message on top. A fortune cookie with the invitation included inside provides a great alternative for Asian themed weddings, or anyone who enjoys these crunchy Chinese treats. Even other smaller, delicate snacks, like macaroons or miniature cupcakes, can be transformed into invitations by including a message on their wrappers or packaging.
Message
An edible bridesmaid invitation must convey a once-in-a-lifetime message: "I want you to be my bridesmaid." Due to the constraints of food items, the invitation's text must be kept brief. Rather than dancing around the issue, come right out and ask, "Will you be my bridesmaid?" For a slightly longer message, something like "Be a part of my special day; please be a bridesmaid at my wedding" is a little more sentimental while not covering the entire sugar cookie or cake with text.
Package
Complete your memorable bridesmaid invitation by wrapping it in a beautiful package. Dress up a clear plastic pouch with curls of colorful curling ribbon. Tiny boxes in a shade that complements the color scheme of your wedding make great holders for treats, too. Add some decorative tissue paper inside to cushion the edible invitation, then wrap up the entire package in a soft satin ribbon.
Photo Credits
Stockbyte/Stockbyte/Getty Images