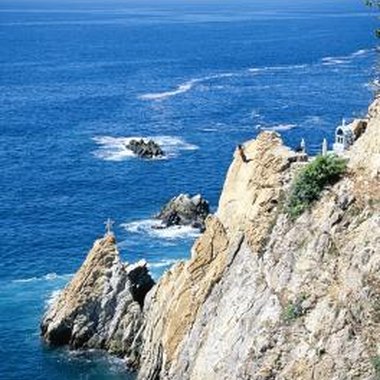 Acapulco is a favorite vacation and spring break spot for the crowd that enjoys tropical beach resort towns. Surrounded by high mountains and a bay with a few islands, the Acapulco area offers many opportunities for the ecotourism. The area boasts a number of different environments, including high mountains, beaches and lagoons and tropical and jungle vegetation.
Lagoons
One of several lagoons in the area, Coyuca Lagoon (acapulco-on-line.com) is located 6.2 miles north of Acapulco. Measuring 10.5 miles long, the lagoon is home to approximately 14 species of fish and freshwater shellfish, such as crabs and shrimp. Tourists can board boats to view the mangroves, coconut palms and the islands Isla Montoso, Isla Presidio and Isla de los Pajaros. The Tres Palos Lagoon (discoverymexico.com) can be found 20 miles southeast of the city center, it is surrounded by mangroves that are home to herons and waterfowl. One of Mexico's most famous beaches, Barra Vieja, is located here and separates the lagoon from the Pacific Ocean.
National Parks
El Veladero National Park (realacapulco.com) sits on high ground overlooking Acapulco Bay and the Acapulco Watershed. The park spans over 8,000 acres and was established in 1980. Most of El Veladero's flora consists of deciduous trees and jungle plants. Reptiles, such as boa constrictors and iguanas, live in the park, as do other small mammals and species of birds, such as songbirds and sea eagles. One of the park's most famous attractions is called Palma Sola, which consists of rocks covered in petroglyphs from the area's first population of Yopes, who lived there from 200 B.C. to A.D. 600.
The Botanical Garden
Acapulco's botanical garden (acapulco.com) is called Esther Pliego de Salinas and is located the mountains south of the city. These mountains reach anywhere from 660 feet to 1,300 feet in altitude, which rivals some of the highest Andean cities. Plants in the botanical garden grow naturally in the semitropical climate of the Acapulco region, such as palms and cycads. In the botanical garden, you will also find a selection of desert plants, gingers, vines and ferns as well as plenty of native birds. Two streams run through this garden; one is constant and one only surfaces after the rains.
Islands
Isla de la Roqueta (realacapulco.com) is the most popular island off the coast of Acapulco. The island is rocky but covered with green grasses and plants. The Playa Roqueta beach is a popular sunbathing spot for tourists. Tourists can reach the island by boat on numerous tours around the Acapulco Bay, and many of these boat sport glass bottoms for observing local species of fish as well as the underwater statue of the Virgen de Guadalupe called the Capilla Submarina. The island also has a small zoo containing many species of local animals.
Photo Credits
Brand X Pictures/Brand X Pictures/Getty Images