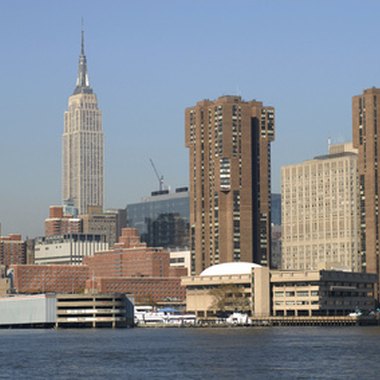 New York City may be one of the world's top tourist destinations, but it sure doesn't come cheap! New York City's hotel prices are the highest in the U.S. -- according to NYC Go, the city's official tourist and marketing agency, the 2009 average price for a night's stay in a hotel room was $238. Frommer's, however, shares the good news that prices are on the way down, so there are still bargains to be found.
Murray Hill Inn
The Murray Hill Inn, located in the quiet Murray Hill neighborhood, describes itself as a "boutique hotel for the budget-minded." This converted five-story brownstone has rooms ranging from $79 a night for a double with a shared bathroom to $99 for a double with a private bathroom, as of winter 2010/201, but prices can go up by $20 to $40 on a holiday or other special occasion such as the New York Marathon. For your money, you get a fairly small room, as is the case with most NYC lodgings, but the rooms are clean and comfortable and offer basic amenities such as air conditioning, telephones and cable television. The hotel is located just half a mile from the Empire State Building and is also half a mile from the entrance to the Queens-Midtown Tunnel.
Chelsea Lodge
The Chelsea Lodge is yet another renovated brownstone, this one in New York's trendy Chelsea neighborhood -- which is known for its galleries, shops and restaurants. In fact, the hotel is only about a quarter-mile (five blocks) from the foodie mecca Chelsea Market, where several Food Network TV shows are filmed. The Chelsea Lodge offers just 22 rooms, all of which have private sinks and showers but share hallway restroom facilities. The rooms are too small to fit queen-size beds comfortably, so the only beds available are full-size ones. Rooms have ceiling fans as well as air conditioning, and the price, regardless of date booked, is a flat $124 for single occupancy or $134 for shared occupancy, as of winter 2010/2011.
Larchmont Hotel
The Larchmont Hotel, in historic Greenwich Village, is the place to go if you'd like to experience luxury amenities at a deep discount. For rates as low as $90 for a small room with a single bed and ranging up to $149 for a large room with a queen bed, you get a writing desk, a small selection of books, a bathrobe and slippers. The only drawback is that you will have to share one of the two bathrooms on every hallway. These hallways also feature shared kitchenettes, so you can really cut down on expenses by cooking your own breakfast. If you absolutely must have a private bathroom, you can always book a suite with one double and two single beds for $219. As this hotel is popular with in-the-know budget travelers, the management suggests you book as far in advance as possible -- preferably six weeks or more.
Hotel Pennsylvania
If you'd like to stay in a hotel steeped in history but can't afford the Waldorf Astoria at a mere $600 or so per night, you can always book a room at the Hotel Pennsylvania, where you'll spend as little as $109 per night for a double room during the off-season, as of winter 2010/201, although rates can rise to over $300 for that same room on a busy holiday weekend. While in its present incarnation it is on the low-frills side, it offered the very latest in modern luxury and convenience when it first opened in 1919 as what was then the world's largest hotel. Famous guests over the years have included Glenn Miller, who immortalized the hotel phone number in his song Pennsylvania 6-5000, Charlie Chaplin, William Faulkner and Herbert Hoover. These days, the hotel is patronized by budget travelers who appreciate its prime location, right across the street from Penn Station, around the corner from Madison Square Garden and one block away from the Empire State Building. The Hotel Pennsylvania has 1,700 guest rooms, all of which have private bathrooms. Penn 5000 club rooms, which start around $15 higher than standard similarly-sized rooms, feature amenities such as mini fridges, in-room wireless internet and a free continental breakfast daily, but all guests can access the internet from the lobby or 24-hour business center and patronize the 24-hour coffee shop and newsstand. Right off the lobby is Lindy's Restaurant, famous for its cheesecake.
References
"New York Times"; World's Biggest Hotel Opens Today; January; 1919
Photo Credits
skyline with empire state building image by Sean Wallace-Jones from Fotolia.com