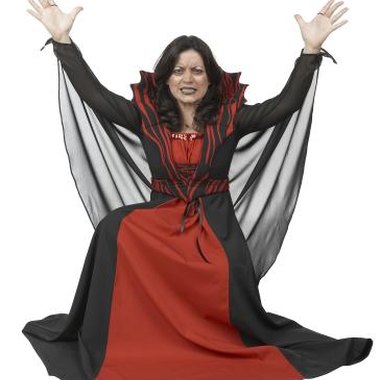 With the popularity of the Twilight Saga and the release of the movie "Eclipse," it is no surprise that "Eclipse"-themed parties are becoming a trend. If you want to celebrate the movie or just hold a party centered around the books in your beloved Twilight series, there are a plenty of choices in the world of vampires and wolves.
Vampire Food
At an "Eclipse" party, the food should ideally have a vampire theme. Bright red--and bloody!--punch should be the drink of choice served in glass punch bowls. For the appetizer make tomato soup. Serve a plate of spaghetti with red sauce or chicken parmesan for the main course. Dessert could be lady fingers or a trifle made with red, red strawberries.
Alice's Party
Decorate your party in the same manner as the character Alice decorated hers. Plase strands of twinkle lights all around the room to give it a romantic glow. Create elegant centerpieces using flowers. Floating candles in glass bowls are elegant as well. Get fancy with your decorations. Use rhinestones or shiny beads to decorate the tables and glittery fabrics as tablecloths.
Werewolf Party
If you are a fan of Team Jacob, you will want a werewolf theme. Pass out wolf charm bracelets as favors to all of your guests. And make sure you have plenty of food on hand for voracious guests. Make giant-sized muffins, and serve T-bone steaks or other red meat as the main course. Give the guests Jacob T-shirts to wear. If the DVD of the film is out, hold a screening of the movie for guests to watch after they eat.
Costume Party
Ask guests to come dressed as the characters from the book. If a girl wants to dress as Bella, she can wear jeans and a T-shirt--add a wig if she doesn't already have long brown hair. Guests dressed as Edward should wear stylish clothes and style their hair as he does. Apply white powder to the face and use a dark makeup pencil to emphasize Edward's eyebrows--add a little lipstick as well. Guests might also dress as members of the Volturi in black shirts and suits or hooded black robes. Add makeup that is more sinister than Edward's pretty look.
Resources
Photo Credits
Photos.com/PhotoObjects.net/Getty Images