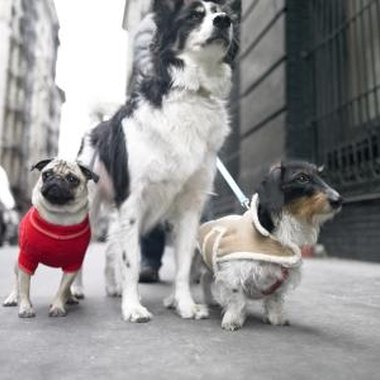 After a grooming, or when the weather turns foul, small dogs often need an extra layer of protection from the elements. A vest is a stylish accessory, easy to pull on and off, with just enough coverage to keep a dog's torso warm without long sleeves getting messy in spring mud or overheating an animal on a moderate day. With several styles of vest and material for creation available, the possibilities for the types of vests that can be created are nearly endless.
Back-Button Vests
Many patterns for crocheting vests for small dogs look very much like a human vest, with pointed tips at the bottom edge of an overlapping button-down back. A dog's anatomy requires that the buttons run down the back of the animal rather than the front, as over-the-belly buttons can catch on items on the ground, and would also be hidden from view. Some patterns include details such as bow ties and ribbon trims, but are usually quick and easy to crochet in heavy worsted weight yarns. Acrylic yarns make these easy to wash and dry.
Pullovers
One of the most-common easy-to-crochet dog vests is the pullover. Patterns are available in V-neck, crew neck and mock turtleneck styles for easy crochet, as well as more-complicated cowl and ruffled necks for a crocheting challenge. These use only a small amount of yarn, and can usually be completed with half a skein of worsted or bulky-weight yarn. These are a good project for using up scraps of yarn to create a striped vest, as the simple crochet stitches lend themselves well to a striped-color pattern. Colors can be added randomly and used until the end of the scrap or alternated in rows, with the extra yarn carried under an outside row of stitches.
Specialty Vests
Any dog vest, including easy crochet patterns, can be altered to a one-of-a-kind garment by substituting a specialty yarn for the yarn called for in the pattern. When substituting yarns, crochet a gauge swatch to ensure that your dog vest will be the proper size to fit your dog. Because less yarn is used in a vest for a small dog, boutique yarns such as eyelash or chenille can be used to great effect, particularly when held together with a strand of standard sport-weight yarn. One strand of eyelash and one strand of sport-weight yarn will together substitute for bulky or chunky weight yarn in a pattern. Use fingering weight -- a light-weight yarn that is one weight size smaller than sport-weight and is often used in baby items -- instead of sport-weight with your specialty yarn to replace worsted-weight yarn.
Flotation Vests for Dogs
By adding small floats to the vest pattern you are crocheting for your dog, you can create a flotation vest to help keep your dog afloat in the water. A flotation vest is helpful if you take your dog camping or fishing and it is too small for standard dog life vests. Floats are available in fishing-supply stores and some hobby stores, and should be slid onto the yarn before beginning work. While crocheting, slide them up, hold them against a completed stitch, and continue working to incorporate them into your vest. Determine how many floats you will need to add by dividing your dog's weight in ounces by the ounce-flotation capacity of each float. For example, a 6-lb. dog would require 24 floats, which each have a 4-oz. capacity.
Photo Credits
Digital Vision./Photodisc/Getty Images