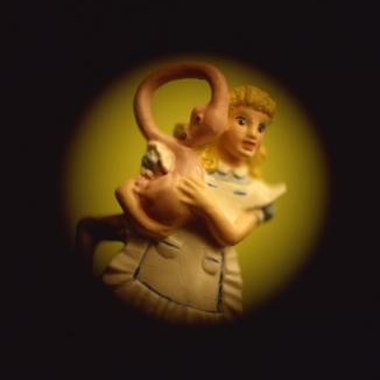 Whether it is "Alice in Wonderland" or "Harry Potter," children want to become the characters from their favorite books. When making a costume based on literary characters, include the right accessory or well-known feature of the character, so that everyone will recognize who the child has become. For example, everyone recognizes Harry Potter by his glasses, scar and scarf. There is no need for an elaborate costume that takes ages to sew.
Fern
"Charlotte's Web," the story of young Fern and her farmyard friends, has delighted children for decades. Fern's recognizable features are her friends Wilbur the pig and Charlotte the spider. Fern should wear a red dress, white shirt with rolled-up jeans or overalls with brown shoes and white socks. Put braids in Fern's hair and tie the ends with little bows. So that no one thinks she is just a farm girl, have Fern carry a stuffed pig and attach a fake spider to her shoulder.
Harold
"Harold and the Purple Crayon" is a delightful book to read and just flip through to enjoy the drawings. Parents who are fans of Harold and his crayon can dress up their little toddler as the main character. Put the child in a blue onesie and place a purple crayon in one hand. The costume is complete. Giving the child some paper to doodle on might be a good idea so that walls do not become the canvas for his art.
The Little Prince
"The Little Prince," the English translation of the book "Le Petit Prince" by Antoine de Saint-Exupéry, is a children's classic loved all over the world. The little prince is recognizable for his simple outfit. He wears pants and a shirt of the same color with a belt in the middle. On most book covers, the suit is green, but in the book, the narrator admits the color is unknown. Around his next is a flowing scarf or a bow tie. Have the prince carry a stuffed lamb, the friend he wanted to keep him company on his lonely planet.
Anne Shirley
A teenage girl can dress up as Anne Shirley from the "Anne of Green Gables" series. Anne is recognized by her red hair and carpetbag. When readers first meet Anne "with an 'e,'" she is wearing a simple dress and pinafore. Make a pinafore by cutting sleeves off a dress with a low neck. Braid Anne's red hair and place a straw hat on her head. The most difficult part of the costume is the carpetbag. Make one by folding a carpet sample in half, sewing up the sides and nailing wooden handles to the top.
Photo Credits
Jupiterimages/Comstock/Getty Images