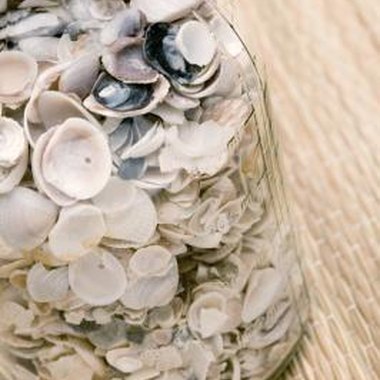 The summer months are a perfect time for throwing parties, holding family reunions and getting together with friends. Options for decorating for summer celebrations are nearly endless. One simple and inexpensive theme is the beach theme. It's not hard to find many inexpensive beach-type items to add life and color to your summer parties.
Beach Jar Decorations
Old jars that have been thoroughly cleaned are perfect for making beach jars (think pickle jars and jelly jars). If you aren't nearing the bottom of your jelly jar, these are easy to find online starting at $9 (for a set of 12). Pour sand in the jar, then add seashells or pieces of shells. If you live near a beach, you can obtain these items for free. Otherwise, you can find bags of mixed shells for sale for around $5-6. Tie different colored ribbons around the top of the jars and set out on the tables or countertops.
Paper Plates/Napkins
Many beach-themed paper products are available at dollar stores, including plates and napkins with images of flip-flops, fish, beach umbrellas, seashells and palm trees. Stick with one or use a combination of different types of beach paper products. This will add color at each place setting and make cleanup time quick and easy.
Beach Buckets
Use beach buckets (clean, of course) for storing cold drinks. Just fill with ice, load with drinks and place along the middle of the table. You can also use beach buckets for keeping condiments chilled or as a storage for utensils. Add a beach-design ribbon around each bucket for extra color.
Beach Party Favors
If you would like to send your guests home with something, choose from many inexpensive beach party favors. Seashell or flip-flop key chains, beach-themed picture frames, nautical candle holders and card games like "Go Fish" are naturals. You can also make candy bags and tie with ribbon in a beach-themed pattern. For an alternative, make sugar cookies with beach-shaped cookie cutters and tie them up in a beach-themed party favor bag. Possibilities are endless with the multitude of beach supplies available during the summer.
Photo Credits
Jupiterimages/liquidlibrary/Getty Images