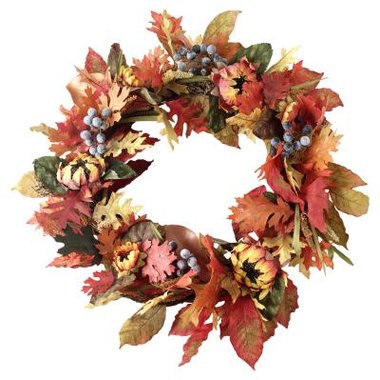 Depending on your local weather, autumn can be a tricky season for preschool. The weather is turning crisp, which can feel nice after a long summer but also means you can't keep children outside all day. Craft projects keep them busy indoors. Wreaths are an easy project for children to make, but creating the forms is a job for teachers. Cut the centers out of paper plates, then help children tape or glue on decorations.
Leaves
Red and orange leaves are a sure sign of autumn, so take preschoolers for a nature walk to collect them. Since fall leaves can be found in a variety of shapes and colors, each child's wreath will look unique. If you don't have leaves on the ground, children can turn their own handprints into fall leaves. Place each child's hand flat on a piece of paper with her fingers pressed together. Trace the shape and help her cut it out and use it as a stencil to cut out more handprint leaves. Her parents can save the wreath as a memento of how small her hands once were.
Pumpkins
As soon as autumn arrives, pumpkins show up everywhere, and their circular shape makes them easy for preschoolers to cut out. When Halloween is approaching, make wreaths covered in miniature jack-o'-lanterns. Children can cut out six or eight orange pumpkins, then decorate each one with a different facial expression. To make their wreaths more personal, suggest that children make one pumpkin representing each of their family members. Hopefully, children's grandfathers won't be too offended when they see themselves represented by a toothless jack-o'-lantern.
Candy
Even well-mannered children turn crazy when Halloween candy appears on store shelves. Rather than fighting it, give in and buy a few bags of candy to bring into the classroom. Choose individually wrapped candies in colorful wrappers. Give each child a few pieces of candy every day in the weeks leading up to Halloween and save the wrappers. When these wrappers are glued to a paper wreath, children can look at their wreaths longingly and wish they had savored that candy a little more.
Flowers
Just because summer is over doesn't mean all signs of flowers have to disappear. Flowers add color to any classroom, and once you send them home preschoolers can display these wreaths year-round. Children can either draw flowers onto paper or cut out petals and glue them around small circles. However you choose to create your flowers, hang some pictures of flowers that come in the colors of fall to inspire students. For instance, sunflowers grow in shades of deep yellow and brown, making them appropriate for autumn.
Photo Credits
Brand X Pictures/Brand X Pictures/Getty Images