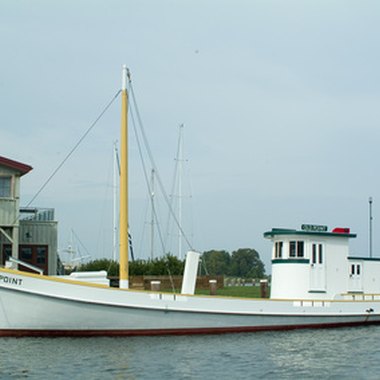 Because of its proximity to the cities of Washington, D.C., and Baltimore, Maryland's Eastern Shore stands as a favored retreat. Whether it be to small, historic communities on inlets of the Chesapeake Bay or to Atlantic Coast destinations such as Ocean City, the Eastern Shore has simple, clean and reasonably priced accommodations for those who know where to look for them.
Considerations
The Eastern Shore of Maryland comprises the entire part of the state that sits between the Chesapeake Bay and the Atlantic Ocean. From the Bay Bridge to Ocean City is a distance of over 100 miles. Staying in a charming, historic community on the bay shore means being one to two hour's drive from the Eastern Shore's Atlantic beaches. Staying in a centrally located community such as Salisbury may cut down on driving to multiple points around the Eastern Shore, but these are not necessarily immediately next to any points of interest. Visitors should study a map of the region carefully before choosing lodgings.
Somers Cove Motel
The Somers Cove Motel offers reasonably priced accommodations for those who wish to include boating or fishing in their Eastern Shore trip. The motel offers simple rooms with balconies, each with a view of the waterfront. Four rooms with kitchenettes are available. Somers Cove is located in Crisfield, Maryland, which is situated in the southern part of the Chesapeake Bay. The motel is adjacent to the town marina, yet still only about 60 miles from the Eastern Shore's Atlantic beaches.
Harrison's Chesapeake House
Tilghman Island is a picturesque, historic community located in the central part of the Chesapeake Bay, connected to the mainland by a drawbridge. Set in a converted house with an added wing, Harrison's Chesapeake House offers 56 simple rooms and four rental cottages. As the proprietors say, "If you like chrome and glass high-rise hotels, hot tubs and sushi bars, we're not the place for you." Nevertheless, the place does breathe a certain Eastern Shore charm with its sun porch, waterfront views, and plentiful helpings of barbecue and steamed crabs at dinner.
The Lankford Hotel and Apartments
The Lankford Hotel offers reasonably priced lodgings on the boardwalk of Ocean City. The original building harks back to 1924, and with its simple rooms and front porch rocking chairs, the Lankford presents its guests with the atmosphere of an old-fashioned seaside retreat. Long-term visitors might be interested in the hotel's apartments, which range from efficiency to three-bedroom units and come with full kitchens. On the downside, the boardwalk location is sometimes noisy. Guests enjoy privileges at the Ocean City Golf Course and free bicycle storage.
Resources
Harrison's Chesapeake House; 21551 Chesapeake House Drive; Tilghman Island, MD 21671; 410-886-2121
Photo Credits
chesapeake oyster boat image by Jorge Moro from Fotolia.com