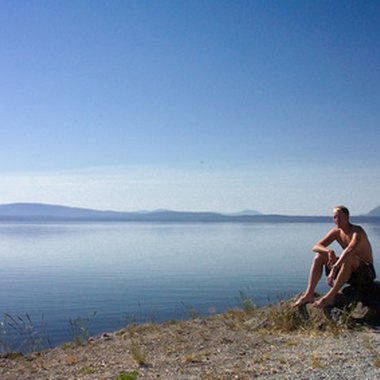 Visitors seeking to enjoy the features of the east end of Yellowstone National Park, such as Yellowstone Lake or the towering heights of Avalanche Peak or Cody's Peak, must base themselves near the East Entrance if they are to avoid long drives through or around the vast expanse of the park. For those who prefer a roof over their head instead of tent fabric, travelers will find an array of inns, hotels and motels convenient to the East Entrance both inside and outside the park.
The Chamberlin Inn
Labeled by Frommer's as one of the best lodgings outside of Yellowstone National Park, the Chamberlin Inn is located in Cody, which is the closest town to the park's East Entrance. A small, family-owned boutique hotel with 24 rooms, the inn is one block from Cody's historic district. The hotel's rooms and exterior feature plenty of exposed brick and wrought-iron appointments, with furnishings consisting in large part of old-fashioned wooden pieces.
The Cody
Located in its namesake town, the Cody is an all-suites hotel described by Fodor's as "thoroughly modern and eco-friendly." Cody is squarely in Buffalo Bill country, with that figure's historical center located in town and Buffalo Bill State Park located between Cody and Yellowstone, making the hotel a logical base for anyone who wants to tack on learning something of the Old West figure to a Yellowstone vacation. The hotel therefore presents an Old West decor, with Indian-drum tables and old-fashioned exposed wood mixing with middle-to-upper style hotel furnishings.
Lake Yellowstone Hotel
Lake Yellowstone Hotel represents the closest lodgings to the East Entrance within the park's boundaries. Situated on the north shores of the lake, the hotel was declared by Frommer's to be one of the best lodgings in the park. Hotel-style rooms are available in the main buildings, which dates to 1891, as well as in a motel-style annex and rental cabins. The latter are simple and therefore more economical affairs, while rooms inside the main hotel are decorated in an opulent style reflecting the buildings heyday in the 1920s.
Yellowstone Valley Inn
The Yellowstone Valley Inn is situated between the East Entrance of Yellowstone and Buffalo Bill State Park, granting access to a plethora of outdoor activities from a position along the Shoshone River and amid the western Wyoming ranch country. The lodge is designed to resemble an Old West town and offers motel-style rooms with light-colored wood furnishings either in the main lodge building or in its duplex "rustic cabins."
Photo Credits
man at yellowstone lake image by Alexander from Fotolia.com