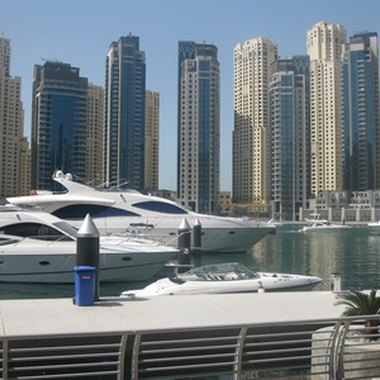 Dubai, one of seven Emirates comprising the United Arab Emirates, is a bastion for communications, media, tourism and Middle East culture. The city, one of the 10 most visited in the world, houses some of the world's finest hotels, largest shopping malls and two man-made archipelagos jutting into the Persian Gulf. Each area of Dubai provides visitors with an uncommon experience, from gold markets to golden beaches.
Dubai International Airport
Occupying the geographical center of the city, Dubai International Airport is a gateway for most international travelers. Staying near the airport is convenient for one-day business trips or extended layovers. Dubai International Hotel, with two terminal-side properties, is operated by the airport.
Bur Dubai
Located just south of Dubai International Airport, Bur Dubai is the city's historic district, lined with international businesses, tourist attractions, metro access and towering accommodations. But the area retains its traditional ambiance with Arabic restaurants serving falafel, and souqs (markets) selling silver, gold, textiles and spices. Dubai Museum, Heritage Village and Sheikh Saeed House are popular attractions in Bur Dubai. Raffles Hotel Dubai, with its pyramid design, is an iconic property in the area.
Deira
Bordered by the Persian Gulf and Dubai's city-splitting creek, Deira was historically the business center of Dubai but has been losing its influence as the city expands. The area still houses architectural masterpieces -- Twin Towers Deria, Dubai Creek Tower and Etisalat Tower -- lining the waterway. The area is popular with families, as it offers a skating rink, Mamzar Beach Park and a number of universities. Sheraton Dubai Creek Hotel & Towers provides state-of-the-art rooms in a striking building.
Jumeirah Beach, Palm Jumeirah and World Island
Situated in southern Dubai, Palm Jumeirah and World Island, magnificent man-made islands, jut out into the Persian Gulf. Jumeirah Beach, also on the Persian Gulf, has become the lifestyle center of Dubai. Fantastic, residential and full of activities, these three destinations have become the epicenter for leisure in Dubai. With miles of beachfront, the area is rife with water sports, from diving and snorkeling to swimming and boating. The area has dozens of world-renowned golf courses, like Dubai Creek. Hundreds of hotels line the area's beaches, but Jumeirah Beach Hotel, an award-winning property, stands out.
Dubai Media City, Dubai Internet City and Knowledge Village
As the descriptive names denote, these are the financial centers of Dubai because they are deemed "free zones" for commerce. These areas have become global hubs for media, communications and education. They are communities of international business and institutions partnering resources to further progress. Radisson Blu Hotel in Media City and Holiday Inn Express-Internet City are two hi-tech properties.