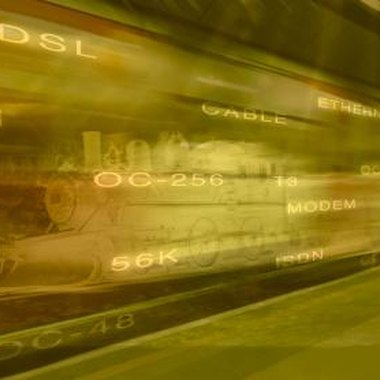 Two providers offer DSL high-speed Internet service to the Orlando, Florida area. Each provider offers various pricing packages and bundles of services. Since upgrades and specials are prevalent in the cable industry, consumers should check each provider to see if they're offering discounts at the time they need to purchase DSL service.
DSL Internet Service
DSL, or Digital Subscriber Line, service connects to the Internet via the wires of an existing telephone network. High speed transmission of data is its main advantage over dial-up technology. DSL transmissions do not interfere with the existing telephone service sharing the same wiring, so Internet access will not be interrupted when a home telephone is in use.
Hardware and Software
Along with a computer, a modem is required so that the DSL installation technician can connect it to the existing telephone line. It may be necessary to install software onto your computer's hard drive so that the DSL service is configured properly. Once the technician configures your telephone line and modem, an Ethernet cable is run from the modem to the computer.
AT&T;
AT&T; offers four levels of service of varying price ranges, all requiring at least a year's contract commitment. Their least expensive package, U-verse Internet Pro, provides download speeds of up to 3.0 megabytes per second (Mbps). The U-verse Elite and Max levels offer increasingly faster upload and download times. Their fastest package, U-verse Internet Max Plus, provides a download speed of up to 18.0 Mbps.
BrightHouse
Brighthouse offers Road Runner high-speed Internet service with a download speed of up to 7.0 Mbps, which is up to 100 times faster than traditional dial-up. Road Runner also offers MessengerChat, and Brighthouse will bundle its DSL service with digital phone and cable television packages.
Photo Credits
Hemera Technologies/AbleStock.com/Getty Images