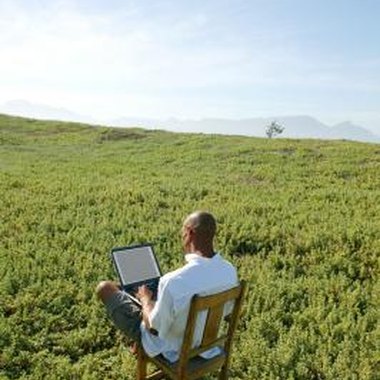 Most Americans are so accustomed to DSL high-speed Internet that it has become viewed like a necessity, ranking on the priority list with electricity and running water. There are still large areas of the U.S., however, that don't have access to DSL. The reasons for this are varied, but if you're moving to a smaller, rural community, such as Wendell, Idaho, it's important to know what Internet services are available.
What is Available
DSL Internet is available anywhere inside the city limits of Wendell. There are just as many service providers for high-speed Internet as there are in bigger, more populated cities. This gives consumers freedom of choice when living in the city of Wendell, anywhere that cable or phone service reaches. However, Wendell is a rather small farming community with a population count of just 2,430 in 2009. A good number of the residents live on the outskirts of town or in the country. For these people, standard DSL services are not available.
Satellite
Satellite services have been improving and are increasing across the country. If you live in an area of Wendell, Idaho, that is not serviced by the usual cable and DSL services, you should consider a satellite service as an alternative. Satellite customers have the same high-speed Internet advantages as those obtaining their service from systems dependent on cable and phone connections. The most important concern is keeping a clear line of sight between the satellite and the dish. It should be noted that inclement weather can affect the service, and the dish needs to be kept clean of snow and other debris. A search of the Internet will turn up many satellite providers who service the Wendell, Idaho, area such as HughesNet, WildBlue and Verizon.
Other Alternative Services
A newer technology that is available to rural Internet customers is evolution-data optimized, or EVDO. EVDO is a broadband wireless technology that provides impressive connectivity and downloads, reportedly between 600 Kbps to 1.4 Mbps. These speeds are comparable to DSL. At the present, most EVDO is accessed and used over mobile devices such as cell phones or iPhones, but special modems are available that will provide internet access to a laptop or netbook. Another newly available service is long-term evolution, or LTE. LTE trials began in 2010 and it became commercially available in 2011. You have probably heard mobile phone companies advertising "4G" technology. "Fourth Generation" is the term being used for this high-speed mobile broadband network.
Future Developments
When the economic stimulus bill was signed, it allocated money that is to be used to expand Internet access in rural areas nationwide. It is the intention for that money to expand the technology already being developed and possibly introduce new technology that is only in the planning stages at this time. An option that might be possible sooner rather than later is WiMax Wireless Internet. Some wireless companies have already put money into WiMax networks, but the testing phases are taking place in highly populated business areas rather than rural areas where it is needed most. WiMax does provide high-speed connections, and it could become a viable option very soon for high-speed Internet in rural areas like Wendell, Idaho.
References
Michelle Lau, Customer Service Representative; Twin Falls, Idaho
Resources
"How to Get Internet Access in Rural Areas"; Quick Easy Guides; July 2008
Photo Credits
Goodshoot/Goodshoot/Getty Images