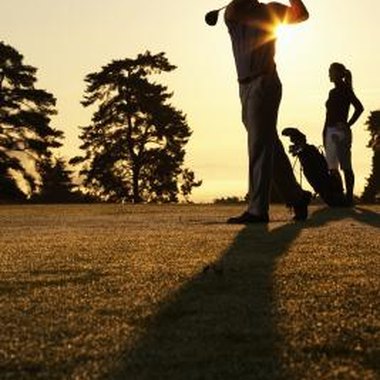 Shelbyville, Tennessee is located about one hour's drive southeast from Nashville. Shelbyville has a strong recreation tradition, with nationally recognized equestrian and women's youth basketball programs. Golf is a beloved activity throughout Tennessee, with courses and driving ranges all over the state to take advantage of the favorable terrain and weather. There are several driving ranges to practice the finer points of the golf swing in and around Shelbyville.
Blackberry Ridge Golf Course
Shelbyville's own Blackberry Ridge Golf Course (blackberryridgegc.com) is built on the grounds of an old cattle farm. In addition to a well-regarded 18-hole course on Bermuda grass, Blackberry Ridge has a 50-tee driving range for members and guests to practice independently or take lessons from house pros.
Riverbend Country Club
Also located in Shelbyville, Riverbend Country Club (riverbendcountryclub.net) is another local Bermuda grass golf course with a driving range for practice. The 20-tee driving range has yardage markers at 200, 150 and 100 yards so that golfers can practice swinging for distance and improve performance on Riverbend's rolling 18-hole course.
Old Fort Golf Club
About 30 minutes north of Shelbyville in nearby Murfreesborough, Old Fort Golf Club (murfreesborotn.gov/golf.aspx) has a driving range for visitors and members. Old Fort, located on the banks of the Stones River, is considered one of the finest public gold courses in the state. The 15-tee driving range is available for private practice and lessons from in-house golf experts.
Saddle Creek Golf Club
Located 30 minutes west from Shelbyville in Lewisburg, Saddle Creek Golf Club (saddlecreekgc.com) is another nearby option for golfing practice. Saddle Creek is a full-service club with bungalows for rent so that visiting golfers and their families can make the most of their time. The two-tier driving range can almost always accommodate another golfer. Nearby chipping practice area and putting green further extend the opportunity to practice the finer points of the game.
Photo Credits
Thomas Northcut/Photodisc/Getty Images