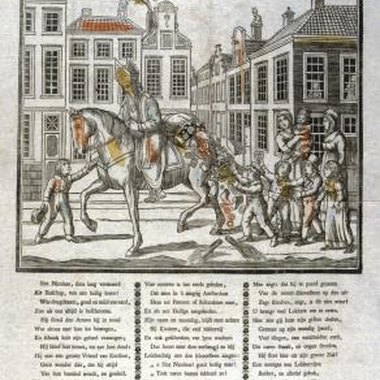 "Twas the Night Before Christmas" is a poem written in 1822 by Clement Clarke Moore; it also goes by the name "A Visit from Saint Nicholas." The poem might be responsible for making the first connection between St. Nicholas and Santa Claus, as this was the first time the saint was portrayed as driving a sleigh with reindeer or carrying a pack of gifts. Moore wrote the poem in the first person, and you can use the narrator's careful description of St. Nicholas as the basis for a holiday-party costume.
Items you will need
Fur or leather coat and pants

Round pillow

Belt

Charcoal

Ziptop bag

Hammer

Burlap sack

Clothes

Toys

Wrapping paper

Bows

Tinted lip gloss

Wood pipe
Step

1
Visit a thrift or vintage clothing store and purchase a fur or leather suit. It doesn't have to be red, like our current conception of what Santa Claus wears, nor does it have to be a historically accurate representation of what St. Nicholas wore in the poem, as that will be difficult to find. The poem states that St. Nick resembled a peddler, so almost any old fur or leather lined jacket and pants should do. Get a suit that is several sizes too large for you.
Step

2
Tuck a round pillow into the front of your pants to account for the belly "that shook when he laughed, like a bowlful of jelly." Wrap a black or brown leather belt around your waist to hold the pants and pillow in place after you put on your jacket.
Step

3
Put some charcoal in a plastic ziptop bag and pound it with a hammer to create "ashes and soot." Dust your fur suit with the ashes to make it look like you've just gone through a chimney.
Step

4
Fill a large burlap or cotton sack with clothes, toys and other lightweight items to make it full but easy to carry. Wrap a few presents in wrapping paper and bows and stick them at the top so that it looks like the entire sack is full of gifts.
Step

5
Add a tinted lip gloss to your mouth, nose and cheeks to fulfill the lines of the poem, "his cheeks were like roses, his nose like a cherry." Stick a wooden pipe in your mouth, as the poem dictates, for a finishing touch.
References
Resources
"The Greenwood Encyclopedia of Clothing Through World History: 1501-1800"; Jill Condra; 2008
Photo Credits
Photos.com/Photos.com/Getty Images