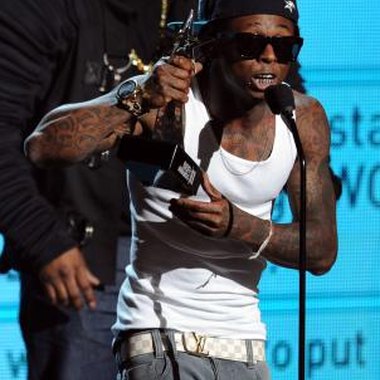 Grammy award-winner -- and sometimes inmate -- Lil' Wayne has his own sense of style, with a flair for long dreadlocks, oversized pants and bizarre facial tattoos. This Halloween, you too can look like the "Lollipop" rapper, even if you don't have the cash to spring for a real gold chain.
Items you will need
Wig

Face paint (black)

Wifebeater or white T-shirt

Temporary tattoos

Mirror

Belt

Large jeans or pants

Boxer shorts

Toy microphone

Large gold cross medallion

Red baseball cap

Sneakers
Step

1
Find a photo of Lil Wayne on the Internet; this way, you can keep in mind his overall style when putting together your costume.
Step

2
Search a costume shop for a long, black wig with dreadlocks. Lil Wayne's dreadlocks are a key part of his style.
Step

3
Put on a form-fitting wifebeater or baggy white T-shirt; bonus points for gentlemen who are willing to go shirtless, as the rapper often does.
Step

4
Put on a pair of boxers; pull your baggy pants over the boxers, but leave a bit of boxer hanging out at the top. Hint: if you don't need a belt, then your pants aren't big enough.
Step

5
Apply some temporary tattoos to your arms; both of the singer's arms are covered in tattoos. If you really want to look like the rapper, apply them to your neck as well.
Step

6
Use black face paint to draw on Wayne's signature forehead crack mark tattoo, the tattooed cross between his eyes and the teardrop tattoo beneath his left eye. Use a photo for reference.
Step

7
Put on a black or red baseball cap; Lil Wayne doesn't go many places without one. You want the bill of the hat to be completely flat, not flexed. You can wear it backward or forward.
Step

8
Wear an oversized gold-cross medallion to add more verisimilitude to your costume.
Step

9
Finish off your Halloween look with a pair of sneakers and a toy microphone. Bonus points if your tennis shoes are big and have large, floppy tongues.
Tips & Warnings
If you already have long, dark hair, you can find instructions on the Internet for making real dreadlocks.

Lil' Wayne is also a fan of oversized black sunglasses.

If it is hot outside where you live for Halloween, you can opt for some oversized shorts, high white socks and Nike sneakers.
Photo Credits
Kevin Winter/Getty Images Entertainment/Getty Images