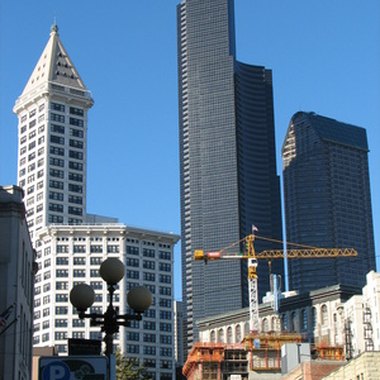 Tourists in the Pacific Northwest can discover arts, sports and seasonal events in downtown Seattle. Seattle's city center hosts operatic performances at McCaw Hall and plays at the Moore Theatre. Sports fans can purchase tickets for Seahawks football games at Qwest Field. Downtown Seattle also attracts global attention for the Seattle International Film Festival each May. Hotels and inns in the heart of Seattle keep travelers within minutes of the city's major attractions.
Waterfront Hotels
Waterfront hotels like the Seattle Marriott Waterfront provide immediate access to attractions along Elliott Bay. This coastal hotel offers guest rooms and suites with large viewing windows looking out on the water. Guests can view the bay while relaxing at the hotel's outdoor pool and terrace. The 2100 Bistro and Bar on the first floor uses ingredients from local suppliers for all three meals. The Edgewater provides accommodations with local touches like wooden dressers and bed frames from regional sources. This property contains Six Seven, an upscale seafood restaurant with seasonal outdoor seating.
Art Hotels
Art hotels like the Hotel Max infuse creativity throughout common areas and guest accommodations. This property decorates each wall with photographs and paintings inspired by scenery throughout downtown Seattle. Hotel Max extends this aesthetic with paintings and wood accents in the 14-seat conference room. The front desk coordinates with the Seattle Art Museum on discounted travel packages for art enthusiasts. Guests can settle down after touring Seattle attractions with candles, soft lighting and flowers in their rooms. The Red Fin Restaurant offers sushi, cocktails and casual dining on the first floor of Hotel Max.
Historic Hotels
Seattle's rich history is reflected in historic hotels within the downtown district. The Roosevelt Hotel maintains original elements from its 1929 opening including a bright neon sign. Guests feel at home with room amenities like bathrobes, slippers and sofas. This historic hotel has been outfitted with modern facilities including a business center and fitness center open 24 hours a day. The Mayflower Park Hotel opened in 1927 has kept original decor and furniture to honor the property's past. Travelers can stay on the first floor for Mediterranean dishes and cocktails in Andaluca Restaurant's casual dining room.
Luxury Hotels
Luxury hotels in downtown Seattle treat guests to upscale amenities and dining options. Guests at the Hotel Vintage Park can arrange for massages by experienced therapists through the front desk. This luxury property hosts monthly wine tasting events on the first floor. Patrons can sit down for Mediterranean cuisine and desserts at Tulio in the lobby. The Hotel 1000 incorporates luxury through room amenities like granite counters, cherry dressers and silk blankets. The first floor connects guests to skin treatments at the Spaahh at Hotel 1000 and dinner at BOKA Kitchen & Bar.
Photo Credits
seattle skyscrapers image by Yevgeniy Zateychuk from Fotolia.com