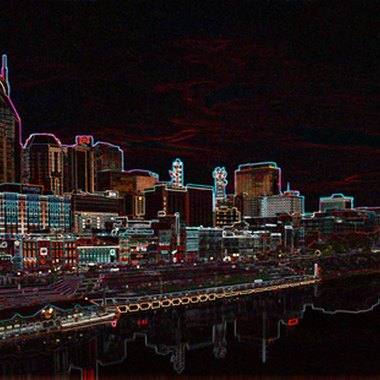 More than 10 million people visit "Music City" each year. Downtown Nashville offers accommodations at luxury hotels and budget motels, all within easy walking distance of attractions like the Country Music Hall of Fame and the Ryman Auditorium. Rates are generally mid-range and higher, but climb during special events like conventions, football games and concerts.
Union Station
Union Station, a Wyndham Grand Hotel, was originally Nashville's main train station and now is listed as one of the National Trust for Historic Preservation's Historic Hotels of America. The station's stained glass, vaulted ceilings and original woodwork remain after an $11 million renovation. No two guest rooms in the seven-story building are alike, and some feature 32-foot-high ceilings. The menu at Union Station's restaurant features sustainable seafood, organic vegetables and hormone-free meats.
Hotel 315 Residences and the Hotel Indigo
Hotel 315 is located above the Hotel Indigo on the top three floors of the renovated 1927 American Trust building. Accommodations include one-bedroom, one-bath, and two-bedroom, two-bath fully equipped suites. The hotel offers call-ahead shopping services, a personal chef and computer rentals. Extended stay suites have a washer and dryer, free Wi-Fi and gourmet kitchens. The Hotel Indigo has 96 rooms and one suite on the lower 15 floors of the American Trust building. The only two-story Starbucks in Nashville is on the premises.
Comfort Inn Downtown Nashville
Comfort Inn, just off Interstate 40 and a mile from the Country Music Hall of Fame, offers standard rooms and Jacuzzi suites with separate seating areas. The usually budget-friendly, no-frills motel can be pricey during some events. The swimming pool is open during the warm months and the hotel provides continental breakfast and free parking. Restaurants within walking distance include a nightclub, pizza joint and an Irish pub. Vanderbilt University and its medical center are nearby.
Best Western
A short walk from the convention center, the Tennessee State Museum and Performing Arts Center, Best Western's Business Plus rooms include data ports with high-speed Internet and complimentary breakfast. Standard rooms are small and better suited to single travelers. A restaurant and New York-style deli are on the premises and Morton's Steak House and Hard Rock Cafe are less than a half-mile away. Rooms that face the street can be noisy at this moderately priced motel.