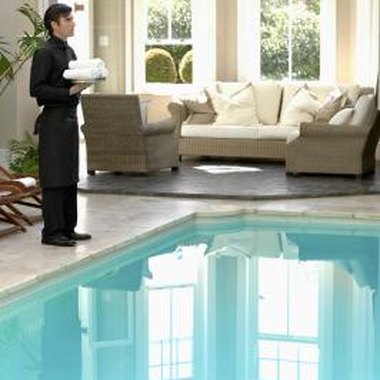 One of Tennessee's largest cities, Nashville offers a number of luxurious hotels in its bustling downtown district. Although most properties in the area offer swimming facilities, a few upscale hotels in the downtown area offer heated indoor pools that offer guests a refreshing dip before or after a day on the city's streets.
Sheraton Nashville Downtown Hotel
As visitors approach downtown Nashville from the west, one hotel stands out with a unique design featuring a round, flying-saucer-like adornment on top of the building. Approaching visitors soon realize, though, that this unusual topper is actually a revolving restaurant that caps the Sheraton Nashville Downtown Hotel. In addition to views of the downtown cityscape from the rooftop restaurant, this upscale hotel also offers an indoor heated lap pool that is open 24 hours a day, 365 days per year. Other luxuries include a 24-hour fitness center, on-site dry cleaning, valet parking, a business center and concierge. Guests at the Sheraton can partake of a complimentary breakfast and afternoon hors d'oeuvres in the Club Lounge, and the hotel's location offers easy access to the Tennessee state capital building and the Tennessee Performing Arts Center.
Doubletree Hotel Nashville – Downtown
This downtown Nashville hotel, renowned for its chocolate chip cookies, offers deluxe guest accommodations that include plasma big-screen televisions, premium TV channels, Wolfgang Puck coffee and tea in the room and complimentary high-speed Internet access. For recreation, this hotel offers an on-site fitness center and a unique swimming pool located half indoors and half outdoors. In the summertime, guests can enter the pool either inside or outside the hotel and freely swim in to and out of the hotel. In the winter, a separator allows hotel staff to partition the pool and continue operating the indoor portion. The indoor portion of the pool operates until 10 p.m. 365 days per year.
Renaissance Nashville
Towering above the southern portion of downtown Nashville, the Renaissance Hotel offers access to one of downtown's busiest thoroughfares. Guests arriving at the Renaissance can self-park on- or off-site for about $8 per day as of December 2010, or hand over the keys to a valet for $27 per day. Once inside, guests can check in at either the front desk or an optional kiosk and select additional fee services like high-speed Internet access and unlimited long distance. Business travelers can also take advantage of available fee-based services like copying and faxing, messenger services, a public notary, secretarial services and an on-site translator. In addition to an array of fitness equipment, the Renaissance offers a heated indoor lap pool surrounded by glass windows and lounge chairs. The pool area includes complimentary towels, and only a few steps separate the indoor pool and the nearby whirlpool.
Hilton Nashville Downtown
Situated amid the Nashville Convention Center, the Bridgestone Arena and the Country Music Hall of Fame, this luxury downtown hotel welcomes guests with valet parking, a full-service concierge and wood-appointed grand ballrooms. Guests in the facility's 330 rooms can take advantage of the full-service business center or on-site steak and seafood restaurants, but those who want to venture off property can walk only a few blocks to historic Second Avenue. Those who remain in the hotel, though, will find a full-sized indoor heated lap pool adjacent to the fitness center, and an adjacent hot tub. Both the hot tub and lap pool are available between 6 a.m. and 11 p.m. 365 days per year.
Photo Credits
Jupiterimages/Goodshoot/Getty Images