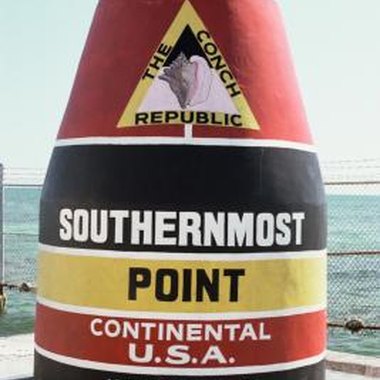 If you're heading to Key West, Florida, and want to stay where the action is, choose a hotel near Duval Street. The area is filled with lively bars and restaurants full of the "Conch Republic" culture that differentiates the town from every other one in the country. Key West is very walkable, so if you stay near Duval Street, you won't need a car to explore the Hemingway House, Mallory Square or the beach.
Duval Inn
The Duval Inn is a bit of an anomaly: a turn-of-the-century guesthouse with modern conveniences like wireless Internet access. Its location a block from Duval Street means vibrant nightlife is right around the corner, but the pool area with its chaise lounges is a relaxing respite from the lively streets. The Duval Inn serves a complimentary island breakfast each morning, and their free Happy Hour around the pool is a way to unwind and meet the other guests. The hotel also rents bicycle cruisers so you can explore the island on two wheels.
Westin Key West Resort & Marina
If you want to be in a prime location, the Westin Key West Resort & Marina is on the west end of the island on Sunset Pier, the hotel is just steps from Mallory Square and the lively bars and restaurants of Duval Street. Some of the rooms have balconies that overlook the ocean, and if you're traveling by boat, the Westin Key West has a large on-site marina. The hotel has four restaurants and lounges, along with an outdoor heated pool and hot tub. The staff has a AAA Four-Diamond rating for service, and they can help arrange snorkeling trips, boat rentals or parasailing adventures for you.
Hyatt Key West Resort and Spa
The waterfront Hyatt Key West Resort and Spa is close to Duval Street, near Mallory Square and famous attractions like the Audubon House and the Truman Little White House. The 118 guestrooms feature Wi-Fi, a mini bar and a flat-screen TV. On site you'll find Shor American Seafood Restaurant and the poolside Blue Mojito Bar and Grill, along with the full-service Jala Spa. The Hyatt also offers guided jet ski tours around the Gulf of Mexico or a sunset cruise.
Crowne Plaza La Concha
The Crowne Plaza La Concha opened in 1926, and it is now an official National Historic Landmark. The luxury hotel sits between Duval and Whitehead Street, making the Key West Aquarium, Hemingway House and the infamous Sloppy Joe's all a short walk away. Crowne Plaza features an outdoor pool with a sundeck and casual bar; Jack's Seafood Shack, inside the hotel, is known for its fresh seafood and island cuisine. If you don't make it down to Mallory Square for the sunset, watch it from The Top, the hotel's rooftop bar that offers views of Key West and the water.
Resources
Hyatt Key West Resort and Spa, 601 Front Street, Key West, FL 33040, 305-809-1234
Photo Credits
Jupiterimages/Photos.com/Getty Images