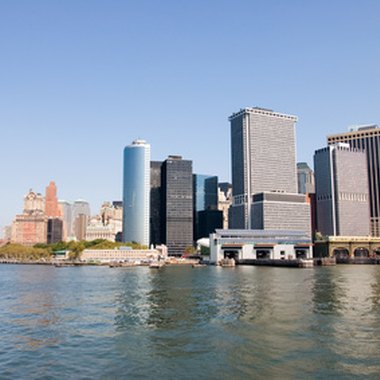 Downtown New York City offers an eclectic selection of hotels for business and leisure travelers. The properties include a charming budget hotel with complimentary fresh-baked cookies and several luxury facilities with full-service spas and unbeatable harbor views. The hotels are in the vicinity of Wall Street, Battery Park, Ground Zero, South Street Seaport and the trendy SoHo area, as well as MTA New York subway stations that provide access to midtown Manhattan.
Hotels Near Battery Park
The Ritz-Carlton Battery Park is a waterfront, art deco-inspired hotel that faces the Statue of Liberty. Standard guest rooms feature plush furnishings and marble baths with separate showers, while upper-level suites contain telescopes that zoom in on "Lady Liberty." Amenities include a full-service spa and gourmet dining at 2 West Restaurant, which serves lobster bisque, halibut and risotto. The Embassy Suites Hotel New York anchors an entertainment complex that contains restaurants, bars and a movie theatre. Accommodations include multiroom suites with harbor- or skyline views and sleeper sofas, complimentary cooked-to-order breakfast and nightly receptions with alcoholic beverages and light snacks.
Hotels Near the Financial District
New York Marriott Downtown is steps away from the World Financial Center, historic Trinity Church and Ground Zero. The hotel's guest rooms feature a mix of traditional and contemporary furnishings, marble baths, and city or harbor views. Hotel facilities include a fully equipped fitness center, sports bar and Starbucks. Millennium Hilton is a towering property adjacent to Ground Zero, Century 21 department store and the Courtland Street subway station, which provides access to Times Square and Broadway. The hotel's towering modern exterior provides a striking contrast to its warm decor. Guest suites offer separate living areas, pull-out sofas and work spaces for business travelers. Hotel facilities include an indoor lap pool, fitness center and lobby bar.
Hotels Near South Street Seaport
Gild Hall is stylish property close to South Street Seaport entertainment district and Wall Street. The hotel features a British-mod décor that incorporates leather furnishings, murals, wood paneling and warm colors. Guest rooms feature platform beds with quilted leather headboards, and roomy suites contain separate lounge areas and iPod docks. Dining options consist of the Libertine Restaurant, which serves pub cuisine in a fashionable atmosphere. Best Western Seaport Inn is an affordable lodging choice with views of the Brooklyn Bridge. Standard guest rooms feature contemporary furnishings, mini fridges and complimentary Wi-Fi access. Whirlpool suites offer sofa beds and romantic two-seater Jacuzzi tubs for vacationing couples. Complimentary breakfast includes Belgian waffles and free fresh-baked cookies are served with afternoon tea.
Hotels Near SoHo
The Solita SoHo is an intimate boutique property a stone's throw away from Bloomingdales SoHo and Chinatown. The hotel's guest rooms feature contemporary decors, complimentary bottled water and opening windows. There is no on-site restaurant; however, pan-Asian eateries and Italian restaurants are a short walk from the hotel. Trump SoHo New York is a fashionable property that towers over the neighborhood. Hotel guest rooms feature contemporary furnishings designed by Fendi Casa fashion house, and floor-to-ceiling windows with city or harbor views. The Spa at Trump offers indoor and outdoor relaxation rooms, and the heated outdoor pool features a stunning waterfall. Dining options are highlighted by Quattro Gastronomia Italiana, which serves gourmet Italian cuisine.
Resources
Trump SoHo New York; 246 Spring St.; New York, NY, 10013; 212-842-5500
Photo Credits
manhattan, new-york image by François Roche from Fotolia.com