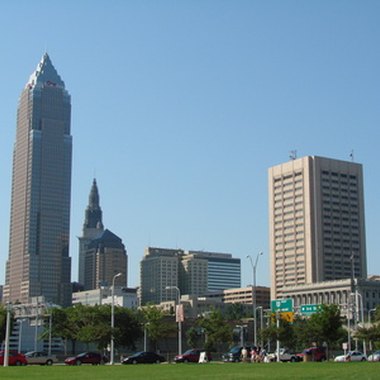 Downtown Cleveland is home to a range of parks, museums, sports facilities, international restaurants and theaters. Hotels in the downtown area sit within a short drive or walk of a rock and roll museum, professional football and basketball stadiums, a public square with monuments, a theater that hosts professional musical productions and an air and space museum devoted to women. Many hotels in downtown Cleveland offer amenities for guests interested in taking a break, such as salons, saunas, turndown services and game rooms.
Ritz-Carlton, Cleveland
Through an indoor walkway, the Ritz-Carlton Cleveland hotel connects to the Tower City Center, an area that contains restaurants, shops and an amphitheater. The hotel hosts teas every Saturday and Sunday afternoon and offers holiday dinners for guests. A casual-dining restaurant features a children's menu with items such as peanut butter and jelly sandwiches and chicken tenders. The 24-hour fitness center offers saunas, steam rooms and Swedish massage treatments. It also has complimentary fruit and bottled water. Many guest rooms and suites offer views of the Cuyahoga River or Lake Erie. People in some suites have access to a lounge with hors d'oeuvres and desserts, and some suites come with dining room tables with chairs for between four and eight people, or one and a half bathrooms.
Hampton Inn Cleveland-Downtown
Hampton Inn Cleveland-Downtown sits within a short drive of the Cleveland Museum of Art, Browns Stadium and the Great Lakes Science Center. The hotel's packages include tickets to the Rock and Roll Hall of Fame and Museum. Another package comes with a meal on a Lake Erie cruise. The hotel is a short drive from restaurants such as the Hard Rock Cafe Cleveland. For breakfast, the hotel has a daily breakfast with eggs, danishes and French toast sticks. It also offers on-the-go bags with protein bars and muffins. The hotel is equipped with two bedroom suites for people staying with their families or large groups, and will provide down or non-allergenic feather pillows.
Crowne Plaza Hotel Cleveland City Centre
The Crowne Plaza Hotel Cleveland City Centre is close to Lake Erie and Cleveland MetroParks Zoo, and a free shuttle takes you to places within a five-mile radius, or the hotel will assist you in getting a rental vehicle. The fitness center is open 24 hours, there are two lounge areas -- one of which is known for its lobster ravioli -- and a beauty salon. Some suites have living rooms with leather armchairs and couches.
Residence Inn Cleveland Downtown
Residence Inn Cleveland Downtown is an all-suite hotel a short walk from Progressive Field and the Quicken Loans Arena. Suites cater to long-term guests, featuring kitchens with full-size refrigerators, bars, stoves, ovens and dishwashers. Living rooms come with work desks with office chairs and armchairs with ottomans. A grocery shopping service provides food and necessity items. For guests staying for more than 30 days, the hotel offers a starter kit with foods such as pasta and laundry soap. From Tuesday through Thursday, the hotel hosts manager's receptions with complimentary beer, wine, cheese and vegetable platters, baked potato bars or hamburgers and hot dogs. The hotel's billiard room is open 24 hours. Through a tower, the hotel is connected to a colonial-style arcade with antique shops, a food court, a barber shop and a health club. The hotel provides complimentary passes to the health club.
Photo Credits
cleveland skyline image by Pix by Marti from Fotolia.com