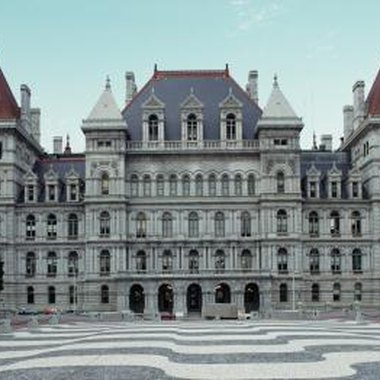 Located on the Willamette River, Albany's downtown area is listed on the National Register of Historic Places because of its 19th-century buildings. Hotels in downtown Albany sit near the area's historic homes, cafes, ballet and orchestra companies, parks, live-music venues, theaters, art galleries and locally owned stores. Luxury, budget and boutique hotels in downtown Albany feature American-style restaurants, heated indoor pools or gift shops with necessities and snack items.
Holiday Inn Express Albany-Downtown
Guests staying at the Holiday Inn Express Albany-Downtown have to go only about a mile or less to watch a ballet, symphony orchestra or community theater performance. A breakfast area decorated with yellow chairs and patterned rugs and guest rooms with dark red paneling and bedspreads add to the modern ambiance of the hotel. A shuttle service transports people to and from the Albany-Rensselaer Amtrak station, and hotel staff sets up limousine rentals. A sauna and steam rooms sit near the fitness center and indoor pool and hot tub, and a daily continental breakfast includes the hotel's signature cinnamon rolls. The hotel is within walking distance of Jack's Oyster House and Lombardo's Restaurant. Guest rooms and suites come with stereo systems, standard-size hot tubs or leather sofas and armchairs.
74 State
The 74 State hotel sits in a historic area that served as a Dutch settlement in the 17th century; it is within walking distance of downtown Albany's art galleries and a historic mansion housing a museum with 18th and 19th century artifacts. The environmentally friendly boutique hotel features counter spaces and stationery made from recycled materials. Guest rooms with Euro-top mattresses, in-house spa treatments and a second-floor bar with mahogany paneling and a fireplace add elegant touches to the hotel. A fine-dining restaurant serves dishes with organic ingredients, and the bistro-style bar regularly hosts Brazilian jazz musicians. Some guest rooms come with fireplaces; all rooms have eco-friendly bath products and flat-screen TVs. Hotel packages include bottles of champagne, breakfast for two at the on-site restaurant or passes to a show at the Albany Institute of History and Art.
Crowne Plaza Hotel Albany-City Center
The Crowne Plaza Hotel Albany-City Center is close to downtown Albany's parks, including Washington Park, a public park featuring a playhouse with musicals. The hotel provides a shuttle service to the Albany International Airport. An Irish pub with a long bar with kitchen-style stools and wooden dining tables; a fine-dining restaurant with modern tables, chairs and booths; and a pool area with a multi-level tower housing a fitness center help to create an eclectic style inside the hotel. Porters and bellman assist you with your luggage, and the hotel provides concierge and same-day dry-cleaning services. An on-site cafe sells Starbucks coffees and pastries; the fitness center offers weightlifting equipment. People in executive-level rooms have access to a social hour with alcoholic beverages and a lounge with a daily continental breakfast. Guest rooms and suites come with mini bars, bathrobes, CD players, multiple closet spaces or separate dressing room areas.
Hampton Inn and Suites Albany-Downtown
Hampton Inn and Suites Albany-Downtown sits within a short walk or drive of an 18th century mansion, the New York State Museum and the site of the USS Slater World War II warship. A bistro-style restaurant with views of downtown Albany, a health club with a massage chair and a lobby lounge with a leather armchair and a fireplace add homey touches to the hotel. You have a choice of eating at a combination Indonesian and French fine-dining restaurant or an American-style bar and grill that regularly hosts jazz musicians. A daily breakfast includes hot foods, and the hotel provides to-go breakfast bags before breakfast. A health club features a steam room, a sauna and a tanning bed. Hotel staff provides playpens upon request; guest rooms and suites come with complimentary cookies and fruit, small desks for laptops, cotton balls and tweezers or brand-name bath products. The hotel's couples' package comes with chocolates, bottles of champagne and signature flutes. Other packages include gift certificates for the hotel's American-style restaurant or the Crossgates Mall.
Photo Credits
Jupiterimages/Photos.com/Getty Images