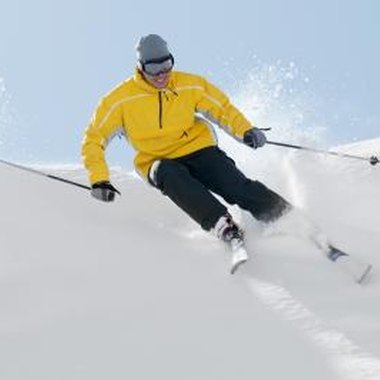 Rochester, Minnesota, is within easy reach of a number of ski resorts catering to downhill skiers and snowboarders. Winter begins in November and lasts through March with frequent storms dropping anywhere from a few inches to a foot of snow. Average winter temperatures of 16 degrees Fahrenheit keep the snow from melting quickly and allow resorts to use snow machines when snow fall is minimal.
Coffee Mill Ski Area Location, Rates and Hours
Coffee Mill Ski Area (coffeemillski.com) is 50 miles northeast of Rochester in Wabasha at the junction of Highways 60 and 61. The resort is open from 4 p.m. to 9:30 p.m. for night skiing on Wednesday and Thursday. It opens at 1 p.m. on Friday, 10 a.m. on Saturday and 11 a.m. on Sunday. At the time of publication, lift tickets cost $20 for night skiing and up to $30 for weekends. Children, college students, military members and seniors receive discounted rates.
Coffee Mill Ski and Snowboard Resort Trails
Coffee Mill offers easy, difficult and expert trails, as well as three chair lifts. Barnstormer is the longest chair lift. It leads to four easy trails: Chippewa, Chippewa Connect, Kitty Walk and Midway. It also brings skiers to two of the three difficult trails: Barnstormer and Nellie's Pass. Finally, this lift leads to four expert trails: Auggie's Chute, Dick's Dive, Fall Line and Wind Down. The remaining difficult and expert trails, respectively named Run of the Mill and O'Chute, are found off the The Run of the Mill lift. Along the eastern edge of Coffee Mill's slopes are two areas where skiers and snowboarders perform tricks and jumps. The Handle Tow leads to both Off Chute and Singing Hill.
Welch Village Location, Rates and Hours
Welch Village (welchvillage.com) is 40 minutes north of Rochester on County Road 7 in Welch. At the time of publication, lift tickets start at $32 for seniors and children up to age 10. Adult passes start at $37. Welch Village opens at 9 a.m. Monday through Friday. Welch Village rents skis, snowboards and boots for children and adults. Find rentals within the base lodge or at SkiLink Learning Center. At the time of this publication, ski rentals start at $15 for children and $30 for adults. SkiLink also offers ski sharpening, waxing and adjustments. It does not mount bindings.
Welch Village Trails and Terrain
Welch Village offers 60 trails and has an extensive lift system consisting of doubles, triples and quads. Lifts cover all areas of the slopes including the snowboard park near the top of the eastern portion of the slopes. The ski resort offers both east and west slopes that feature a range of easy, difficult and expert trails. On the back half of the mountain, you'll find the back bowl with 10 expert trails. The front face of the slopes offer a range of trails for all levels with an even mix of beginner, difficult and expert trails. Most of the beginner trails sit on the eastern or western most edges. Located near the eastern portion of the ski area, Main Chalet serves food and drinks. The ski patrol is nearest the Main Chalet, as are the ski lodges for those needing accommodations. Madd Jaxx Bar and Grille abuts the western slopes and offers food and alcoholic beverages in the lounge.
Photo Credits
Jupiterimages/Comstock/Getty Images