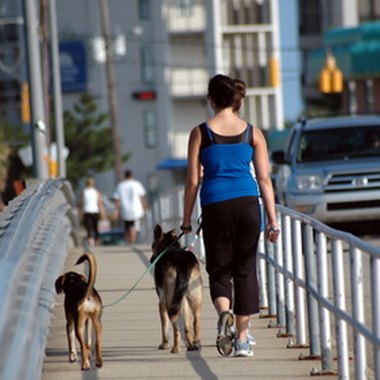 Portland is a dog-friendly town with activities year-round that celebrate the relationship between humans and their canine kin. From fun-runs, pet-centered festivals and fundraising events for the many local dog and animal rescue groups, plenty of activities celebrates the dog world. Events include an annual "pong n gong" ping pong tournament and the infamous "pug crawl," where participants can watch the Parade of Pugs while sipping local brew. Guests heading into town for a week or longer with their pooch will find plenty of places to stay in and around the city.
Downtown Portland
Both the Mark Spencer and the Residence Inn by Marriott offer weekly rates along with a welcoming pet policy. Pets are allowed at both locations, but there is a nightly fee of up to $75 as of November 2010. Prices at both hotels tend to be on the upscale tick given their location in the downtown area, but seasonal rates do apply. The Mark Spencer sets inside into the Pearl District, home to boutique shopping, dining and Portland landmark Powell's Books, the largest independent bookstore in the world. It's also just a short walk to the North Park blocks, a dog-friendly, though leash-required greenspace. The Residence Inn offers views and a short walk to the Willamette River where a multi-purpose path makes for good strolling with your pet.
Portland Airport
Three midrange dog-friendly hotels with weekly rates are located within a few minutes of the Portland airport. The Staybridge Suites, Residence Inn by Marriott, and the Candlewood Suites offer out-of-town visitors highway access to the Columbia River Gorge National Scenic Area and Mt. Hood National Forest. It's also just about 15 minutes from downtown Portland by car or less than an hour by the MAX light rail system. Dog policy at all three hotels requires a nightly security deposit. While this area is not as park friendly as some spots in Portland, a multi-purpose path along the Columbia River is within about one mile of the hotels.
Budget Weekly Hotels
Visitors to the Portland area looking to save a little money may want to consider a budget hotel. The Extended Stay Hotel is just east of the city along Interstate 84, about 10 miles from downtown Portland. The Banfield Value Inn offers budget rates near the Rose Quarter, home to the Oregon Convention Center, Rose Garden Arena and the Lloyd Center Mall. The Best Value Inn sits on 82nd Avenue, one of the main thoroughfares in the city, with quick highway access to both I-84 and I-205. All three lodgings allow dogs but charge a nightly fee.
Portland Dog Parks
One of the perks for pups living — and visiting — such a dog-friendly city is the built-in amenity of plenty of dog parks to explore. Portland has more than 30 dog parks, both "dedicated" -- designed for off-leash play -- and "shared." These latter parks, run by Portland Parks and Recreation, have specific times when off-leash roaming is allowed. (See the Resources for links to both types of parks.) Please be aware that the City of Portland does have a leash and scoop law, with violators facing a $150 fine or exclusion from the park.
Photo Credits
walking the dogs image by Kevin Chesson from Fotolia.com