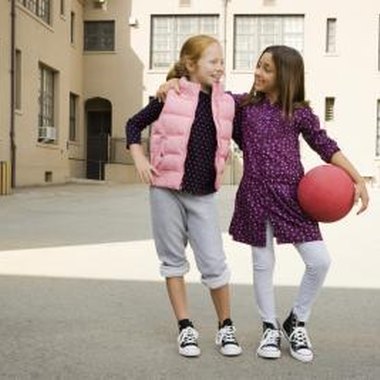 Are you looking for a birthday party theme that's wild, active and crazy fun? A dodgeball birthday party may be just the thing to keep your guests engaged and excited throughout the entire event. A little friendly competition never hurt anyone, and with the right refreshments, guests and activities, your dodgeball party will be remembered for years to come.
Venues
Dodgeball is the most fun when you play in a spacious area with a floor off of which the rubber balls can bounce. Reserve the community basketball gym for your party; afterward, you can turn the party into a lock-in. Clear the chairs out of your church's social hall and divide the floor in half with masking tape. Book your party at a skating rink and give the dodgeball games an extra twist -- skating players!
Gearing Up
In addition to the best and most thrilling dodgeball game ever, your party needs some extra activities to make it a big hit. After everyone has arrived, pick team captains. Have the rest of the guests stand behind a screen and throw a dodgeball one at the time to showcase their skills. Captains can't see who is throwing, so they must pick teammates based on the throw alone. Herd everyone outside during a summer party and fill 100 balloons with water. Have guests stand in an enclosed area and put the birthday boy in front of it, armed with the water balloons. Blow a whistle and have the birthday boy starts throwing the balloons. If a guest is hit, she's out and must join the birthday boy, throwing water balloons to try an hit the other guests. The last guest standing wins.
Refreshments
Your guests will likely work up a sweat playing hard. Serve plenty of ice water and flavored sports drinks to keep everyone hydrated. For the birthday cake, have a bakery make a cake in the likeness of a dodgeball or even one that looks like Peter La Fleur from the movie "Dodgeball." Serve food that's easy to eat and portable, such as pizza or mini sandwiches. You don't want your guests to miss out on the games because of messy food! Provide lighter fare, such as sliced veggies and crackers with cheese for players with sensitive stomachs -- some people get nauseated when they exercise after eating.
Cooling Down
When guests are ready for a break from the dodgeball frenzy, be ready with some low-key activities. Provide every guest with a plain white T-shirt and supply fabric paint and decorative touches, such as glitter. Let guests create a team or party souvenir T-shirt to take home. Or, rent a movie projector and show the movie "Dodgeball." Or, give each guest her own personal dodgeball and supply permanent markers so that the birthday boy and other guests can sign it.
Photo Credits
Jupiterimages/Brand X Pictures/Getty Images