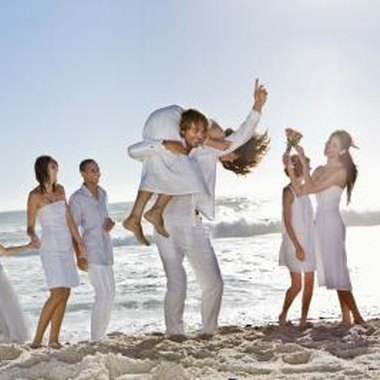 Out-of-town bags, or OOT bags, can be a great addition, and helpful resource, for wedding guests who have traveled to attend your ceremony. OOT bags are easy to make yourself as long as you have the budget and time to put them together. If you want to give your traveling guests a little something, there are a variety of free and relatively inexpensive gifts you can put in each bag. For brides with the time and funds, making your own OOT bags will be a fun and memorable experience.
Budget OOT Bags
Step

1
Go to a dollar store and purchase enough gift bags and tissue paper to accommodate the number of OOT bags you need. Dollar store bags will be more cost effective than card shops or baskets.
Step

2
Gather brochures and maps of the area in which your guests will be staying and your wedding will be held, if their stay will involve travel between the two. You can find these at the town visitor's center, library, town hall or even local hotels. Along with the map, be sure to include directions from the hotel to the ceremony and reception sites so your guests won't get lost.
Step

3
Bake a few types of cookies or other treats. Wrap them in colored plastic wrap and throw a couple of your favorite candies into each bag as well. A nice treat when your guests arrive at the hotel after traveling could be just what they need.
Step

4
Insert a handwritten thank-you note in each bag. It doesn't have to be anything long or in-depth, just a personalized "thank you" from the bride and groom for taking the time to travel and attend the wedding.
Step

5
Make a list of restaurants in the area that you enjoy. If you are less familiar with the area, get recommendations from friends or hotels about dining options for your out-of-town guests. Include phone numbers and addresses of the restaurants so your guests can determine what will work best for them.
Step

6
Include a small gift card for a nearby coffee shop or chain, if it's in your budget. Your guests will appreciate having a specific place they can go to eat the morning after their arrival.
OOT Bags Included in Wedding Costs
Step

1
Select the types of bags or baskets in which you want to display your out-of-town guests' gifts. You may purchase specialty bags from bridal boutiques or you can design your own online, depending on your preference.
Step

2
Collect maps and brochures of the area. Your guests will want to know places to go and how to get there if you are unavailable to guide them around throughout their stay. For a personalized touch, indicate on the each map restaurants and attractions you feel particular guests will enjoy.
Step

3
Give each guest a gift certificate to go to the hotel spa if the hotel at which your guests are staying offers spa services, For guests you know will be uninterested in visiting the spa, treat them to a special local activity or a gift certificate to the hotel restaurant.
Step

4
Choose small trinkets, one type for men and another for women, to include in the bags. This can be perfume or cologne samples, key chains, manicure kits, pocket knives and anything else you think your guests may enjoy that will remind them of your wedding.
Step

5
Create small food goodie bags to include in your OOT bags. These can have local treats unavailable in other areas, favorites of the wedding party or even be personalized for each guests' preference. Try not to include nuts or other allergen-heavy foods to prevent any unfortunate reactions before the wedding.
References
"Modern Bride Guide to Etiquette;" Cele Goldsmith Lalli; 1993.
Photo Credits
Jupiterimages/Polka Dot/Getty Images